Radio Esperanza | 96.5 KEPJ-LPFM-San Antonio
Part of Arte y Corazón
VISION
Radio Esperanza, 96.5 KEPJ-LPFM-San Antonio, is a low-powered community radio station dedicated to providing social justice organizing and community expression to our listeners. We provide a platform for local news, music, podcasts, and programs produced and presented by women, people of color, the lesbian, gay, trans and queer community, the working class and the poor.
Radio Esperanza empowers buena gente to speak out about injustices through media literacy and equitable access platforms. We are a non-commercial program of the Esperanza Peace & Justice Center, a nonprofit organization. We cover a geographic area within three to five miles of the Esperanza Center at 922 San Pedro Avenue in San Antonio, Texas.
Radio Esperanza is an affiliate of Democracy Now! and Radio Bilingüe.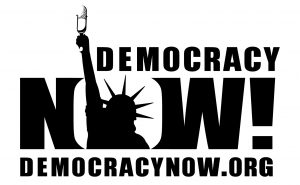 Democracy Now! produces a daily, global, independent news hour hosted by award-winning journalists Amy Goodman and Juan González. Reporting includes breaking daily news headlines and in-depth interviews with people on the front lines of the world's most pressing issues. On Democracy Now!, you'll hear a diversity of voices speaking for themselves, providing a unique and sometimes provocative perspective on global events.
Stand-by as we work exact times for regular programming. If you are in the area, please tune in!

Radio Bilingüe is the leading Latino public radio network and content producer for the nation's public broadcasting system and the only Spanish-language national news and information service for public broadcasting. Its mission is to serve as a voice to empower Latinos and other under-served communities.
As of July 9, 2018, Radio Esperanza joins their network as a national affiliate and becomes one of three Radio Bilingüe affiliates in Texas.
Three Radio Bilingüe programs will be added to Radio Esperanza's playlist:
• Línea Abierta – The first only live national Spanish daily talk/call-in show in public broadcasting.
• Edición Semanaria – The only national Spanish language weekly news magazine.
• Todo al Pulmon – Musica AlterLatina: Rock en Español/Latin Alternative Music.
Our playlist will feature new programming daily, Monday through Friday; our weekend programming will repeat Saturday and Sundays. Stay tuned for exact program times as we transition to regular programming.
---
On May 15, 2018, Radio Esperanza celebrated a soft opening launch. We are currently working to increase our capacity.
Want to help us grow our radio project?
[fa type="paypal"] One-Time Donation
---
---
If you are a local musician with original music and would like to submit your work for consideration, please fill out the form below:
Upcoming Radio Esperanza | 96.5 KEPJ-LPFM-San Antonio Events
No upcoming events at this time.
Recent Radio Esperanza | 96.5 KEPJ-LPFM-San Antonio Events
April 22, 2023

Come learn about the power of community radio and express YOUR thoughts and dreams for the future of low-power FM community station Radio Esperanza! Esperanza currently operates low power station […]