Preserving African-American Sites in Austin: A Conversation with Dr. Fred McGhee
Thursday, November 8 @ 6:30 pm

-

8:30 pm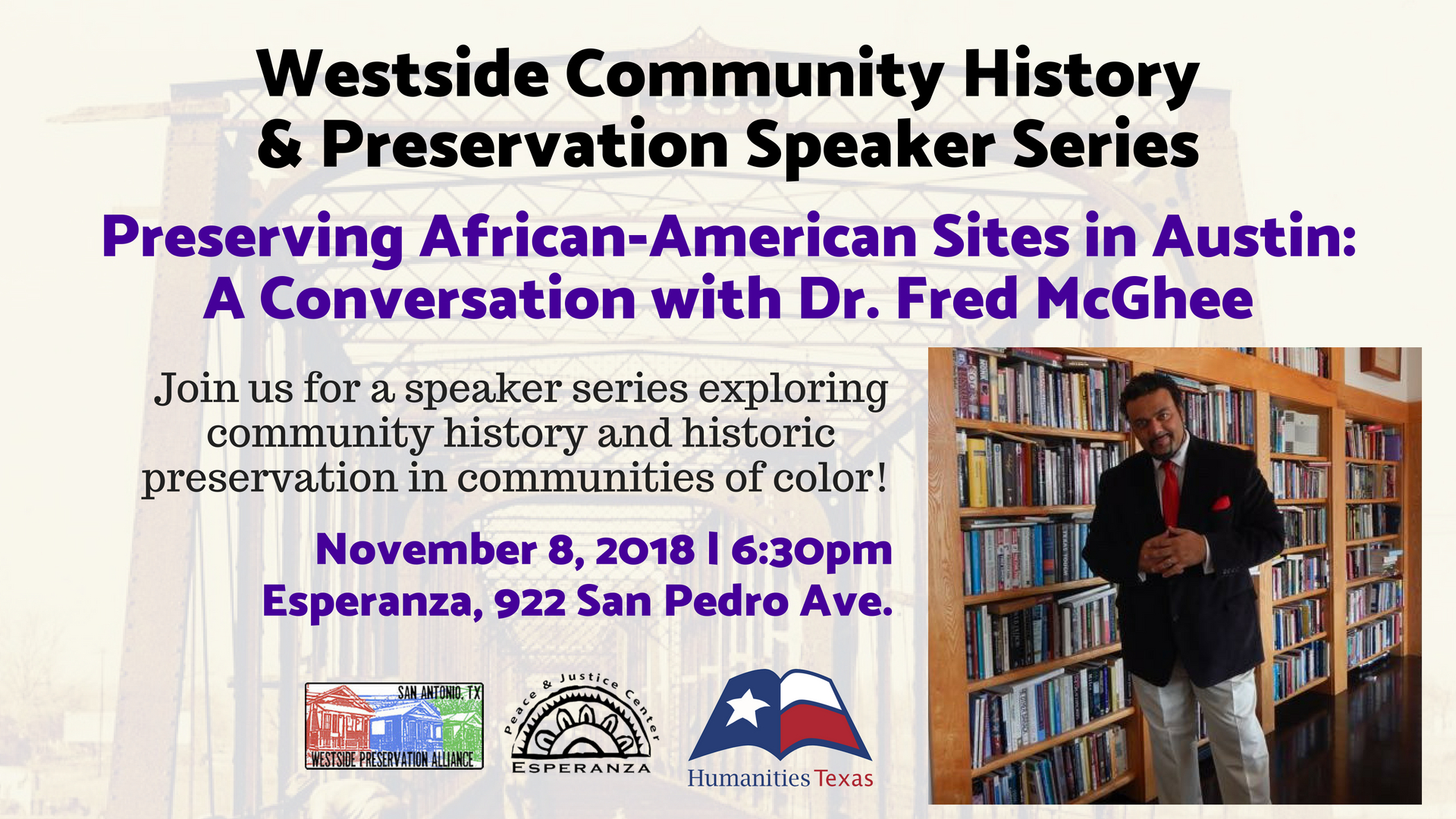 Preserving African-American Sites in Austin: A Conversation with Dr. Fred McGhee
Join the Westside Preservation Alliance and the Esperanza for the third event of our Westside Community History & Preservation Speaker Series! There will be one more speaker in this series in December.
This series will explore community history and historic preservation in communities of color!
Over the last thirty years Austin has experienced a massive population growth coupled with a critical shortage of affordable housing. East Austin's 78702 zip code, home of two of the US's oldest black public housing projects, has been particularly hard hit by gentrification. Drawing connections between heritage conservation, affordable housing, and environmental and community integrity, Dr. McGhee will describe his work to preserve Austin's historic Rosewood and Santa Rita Courts, as well as other historic African American settlements in Texas.
Dr. Fred L. McGhee is an historical archaeologist and urban and environmental anthropologist. Deeply grounded in community, Dr. McGhee has for over twenty years been a Texas based advocate and activist, particularly on affordable housing, education, community policing, and environmental justice issues. Long active in some of the nation's toughest public housing neighborhoods, McGhee has been a fixture in local, regional and national advocacy efforts on behalf of the urban poor. As an African-American archaeologist and historian Dr. McGhee has been recognized by the State of Texas for his work with the Texas Slave Descendants Society in helping to bring greater attention to the history of plantation agriculture, slavery and convict leasing in the city of Sugar Land, and for his historic preservation and environmental justice advocacy alongside the South Texas Alliance of Indigenous Peoples in Corpus Christi. Dr. McGhee authored the National Register nomination for the housing development, and previously wrote the National Register nomination for the Santa Rita Courts Historic District in 2006 for which he was honored with a 2008 Heritage Society of Austin preservation award.
✨ September 11, 2018 | 6:30pm ✨
Historic African-American Communities in San Anto w/ Everett Fly
✨ October 23, 2018 | 6:30pm ✨
Resisting Barrio Displacement in El Paso w/ Yolanda Chávez Leyva
✨ November 8, 2018 | 6:30pm ✨
Preserving African-American Sites in Austin: A Conversation with Dr. Fred McGhee
✨ December 6, 2018 | 6:30pm ✨
Escuelitas and the Emergence of a Mexican American Identity in South Texas: A Conversation with Dr. Philis Barragán Goetz
This program was made possible in part with a grant from
Humanities Texas
, the state affiliate of the
National Endowment for the Humanities
.