Still Here: Homenaje al Westside de San Antonio | Official Book + CD Release
Sunday, November 11 @ 2:00 pm

-

7:30 pm

|

$10 – $15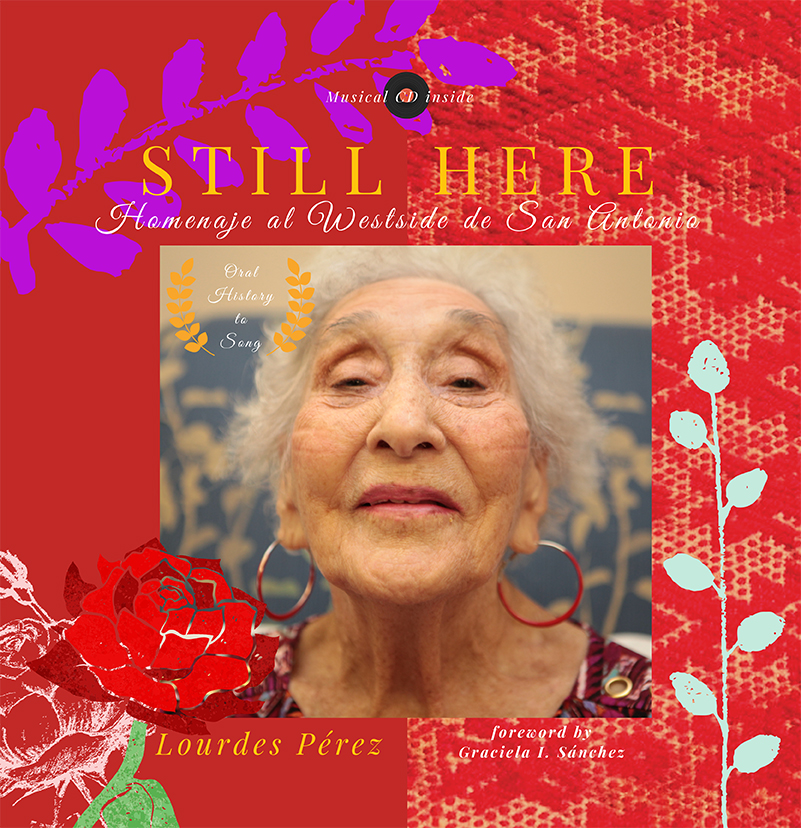 Join us on Sunday, November 11, 2018 at 3 pm as we celebrate the official Book and CD release of
Still Here: Homenaje al Westside de San Antonio
, with a multimedia performance hosted by composer
Lourdes Perez
. Still Here features original recorded music with live dance performances by Leticia Sánchez-Retamozo and Álvaro Duarte, and live readings from the book by the honorees, Los Corazones de Esperanza.
• Pre-show exhibit and reception: 2:00 pm
• Still Here show: 3:00 pm
After the show we'll be having a book signing, food, and dancing featuring live music by Henry Gomez Trio + David González, and
Los Texmaniacs
unplugged featuring Bene Medina!
$10 Presale and $15 at the door
About
Still Here: Homenaje al Westside de San Antonio
Still Here is a one of a kind treasure — an oral history book and original music CD. From the historic Mexican Westside of San Antonio, twelve beloved elders (also known as "Corazones de Esperanza") – Josie Merla Martin, Angie Merla, Jimmy Kitchen, Guadalupe "Bertha" Rodríguez Flores, Isabel Casillas Sánchez, Enrique Sánchez, Jesse Vidales, Lucy Bazaldúa Dimando, Refugia "Susie" Bazaldúa Koppelman, Lucy Domínguez Pérez, Ray Pérez and Mildred de la Cruz Hilbrich – share their rich memories of the fruit trees, of secret healing practices, of working and falling in love, displacement and loss, floods, dancing, music and the theaters, el convivir de esos tiempos.
Acclaimed musician, composer and poet Lourdes Pérez, turned their stories into songs and then called on the impressive list of musical stars from the Westside to perform and record them.
The CD included with this book was recorded, mixed and mastered by Westside born Joe Treviño of Blue Cat Studios and features performances by: Tish Hinojosa, Bene Medina, Henry Gómez, Flaco Jiménez, Santiago Jiménez, Jr., 
Max Baca, Eva Ybarra, Lourdes Pérez, Chuy Vásquez, David González, Blanca Rodríguez, Rita Vidaurri. Beatriz Llamas, Javier Chaparro, Armando Aussenac, Al Gómez, Sauce González, Ramón Gutierrez, Mildred Hilbrich, Enrique Sánchez, Joe Posada & Roberto Casillas.
The book contains portraits by photographer native San Antonian
Antonia Padilla
, as well as vintage photography from the 1930s, 40s and 50s. Foreword by
Esperanza Peace & Justice Center
director Graciela I. Sánchez, who also grew up on the Westside of San Antonio.