OUT & PROUD Virtually! Encore Performance!
Saturday, December 5 @ 8:00 pm

-

9:00 pm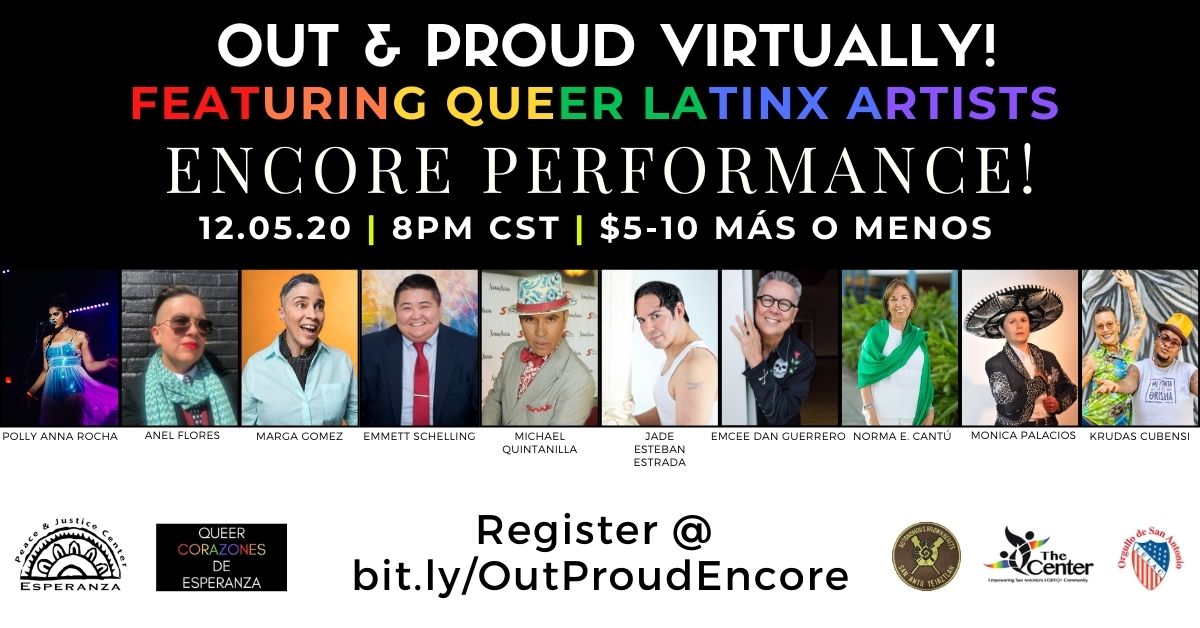 Join us for an encore performance of OUT & PROUD Virtually! Featuring Queer Latinx Artists on Saturday, December 5th at 8pm CT! Come out! Be out! Estamos aquí!
Admission for this show is $5-10 más o menos. Register @ bit.ly/OutProudEncore
This show features artists Anel Flores, Polly Anna Rocha, Marga Gomez, Jade Esteban Estrada, Dan Guerrero, Monica Palacios, & Krudas Cubensi! Special appearances by Michael Quintanilla, Norma Cantú, and Emmett Schelling!
If you cannot register online, contact us by email or phone to register. Call 210.228.0201 & leave a message or email fundraising@esperanzacenter.org
————————————–
Artists' Bio:
🌟 Monica Palacios is the creator of solo shows, plays, screenplays, short stories, stand-up comedy, poems, featuring the Latinx LGBTQ experience. Monica is featured in the queer documentary STAND UP, STAND OUT: The Making Of A Comedy Movement, 2019. Monica was selected as the Lakes Writer-in-Residence at Smith College 2019. Palacios has received numerous awards for her contributions to the Latinx LGBTQ population, most recently from the City of Los Angeles as a Latinx LGBTQ Trailblazer 2017. Los Angeles Mayor Antonio Villaraigosa declared October 12, 2012 "Monica Palacios Day" honoring Monica's pioneering career as a Chicana lesbian performer .www.monicapalacios.com
🌟 By the time Out Magazine christened Jade Esteban Estrada "the first gay Latin star" in 2001, the actor, singer and LGBTQ+ activist had already earned a notable place in the history of the modern gay rights movement. Perhaps best known for his widely-traveled solo theatre endeavors, Estrada has starred in award-winning shows like "ICONS: The Lesbian and Gay History of the World, Vol. 1-5," "A Lullaby for Ryan: The History of HIV/AIDS in America," "Tortilla Heaven" and "A Sign from the Taco Gods." Minneapolis-St. Paul Magazine calls him "one of the finest solo theatre artists of the 21st century."
🌟 Polly Anna is a San Antonio-based singer-songwriter-producer who fuses electronic, jazz and post-punk influences together to create emotional pop music, which she refers to as "dreamy emo goddess pop."
🌟 Cubensi/ Krudxs Cubensi: Odaymara ( Odaymar) Cuesta and Olivix/ Oliver Prendes. They both born & raised in Cuba, studied Art and began their artivism early in their lives. They Worker class Hip-Hop MCs, independent musicians, poets, theater performers and vegan educators standing up for black and latin feminist queers, gender not conforming, woman, immigrants and intersectional beings. They choose the art as a weapon to celebrate the life, for justice, to fight against oppression. Krudas twist fierce feminist hip-hop and afro-cuban flavors to uplift a message that makes their show irresistible. They bring Cubensi Hip Hop, Dance Hall, Cumbia, Old School, Mixtapes and new strongly beautiful Beats from all around the World with their Amazing Afro Caribbean Rebel Lyrics & Voices to empower their community.
🌟 Marga Gomez is known for her work in solo performance and stand up comedy and for being one of the first openly lesbian performers in the nation. She has appeared on LOGO's "One Night Stand Up," Showtime's "Latino Laugh Festival," Comedy Central's "Out There" and HBO's "Comic Relief" at the invitation of Robin Williams who called her "Amazing… a lesbian Lenny Bruce." She has been a guest on leading comedy podcasts Marc Maron's "WTF," "The Keith and The Girl Show" and Kevin Allison's "Risk." Her comic style has been described as "deliciously cheeky and incendiary" by the New York Times and "salaciously surreal" by the San Francisco Chronicle. She is a regular at SF Comedy Day and has been featured at numerous comedy festivals including SF Sketchfest, Montreal's Just For Laughs, South Beach Comedy Festival, Vancouver Comedy Festival and The Edinburgh Fringe Festival.
🌟 Anel I. Flores was awarded Women's Advocate of the Year 2018 from University of Texas San Antonio and the Nebrija Creadores Award from the Universidad de Alcala de Henares in Madrid, Spain. Flores was named Best Of San Antonio Local Author 2017, the Chingona in Literature Award 2016, the Ancinas Award at Squaw Valley, the NALAC Fund for the Arts Award, the Accion Women Inspiring Women Award, the Yellow Rose of Texas Educator Award, and the Mentorship Leadership Award from the National Performance Network. She is co-editor of forthcoming Jota Anthology with Korima Press and author of Lambda literary award nominated book Empanada: A Lesbiana Story en Probaditas. Flores holds her MFA in Creative Writing, is a member of the Macondo Writer's Workshop, the Society for the Study of Gloria Anzaldua and the National Association of Latina/os in Arts and Culture. Among various anthologies and magazines, Flores' work can be found in Entre Guadalupe y Malinche: Tejanas in Literature and Art with UT Press, The Jota Anthology, Queer Spiritualities, Rooted: A Queer Women of Color Anthology, El Mundo Zurdo Anthology, The Brillantina Project, Sinister Wisdom This City Is A Poem, Raspa Magazine, OutInSA Magazine, iungo Arts Magazine, the Lodestar Quarterly, The Pitkin Literary Review and La Voz de Esperanza. Her play Empanada toured for 10 years throughout the University and Theater circuit and continues to be produced today. She is currently in the process of completing her forthcoming book, Cortinas de Lluvia, a series of Children's books and a graphic memoir titled, Pintada de Rojo. Her teaching career includes 11 years of public high school and college, along with 4 years in Education Arts Administration, and various community literary workshops. While not working in the arts, Flores uses her creativity and skill to run her boutique real estate company A&N Realty and contributes to her community as the Co-Founder LezRideSA, Liason at San Antonio Mayor's LGBTQIA TaskForce and a Board Member at Macondo Writer's Workshop. She is lovingly supported by her familia, wife Erika Casasola and their hijas, Jessica y Klarissa.
🌟 DAN GUERRERO is an award-winning producer of diverse programming for network and cable television and of live arts and culture concert events. He's helmed talk shows and music specials for NBC, PBS, HBO, Univision and Telemundo and directed large-scale concert events at the Dorothy Chandler Pavilion in Los Angeles, the National Hispanic Cultural Center in Albuquerque, the Cite de la Musique in Paris, France and the Kennedy Center in Washington, DC among other prestigious venues. The eclectic artist also tours with his autobiographical solo show that chronicles his journey of discovery across the lines of ethnicity and gender. ¡Gaytino! travels through decades of Mexican-American/Chicano history and the gay experience from a unique and personal perspective. The storytelling performance piece has been widely embraced by critics and audiences nationwide and was recently filmed for festival screenings and possible broadcast.
————————————-
The Esperanza Peace and Justice Center is a nationally recognized nonprofit arts organization dedicated to the intersections of cultural arts and social change. Esperanza's cultural programming champions the lives and experiences of women, people of color, LGBTQ, immigrant, and working class communities.
This programming is made possible by our generous donors and Buena Gente. Donate via credit card @ www.esperanzacenter.org/donate or www.venmo.com/esperanzacenter