Esperanza's Giving Tuesday Fundraiser!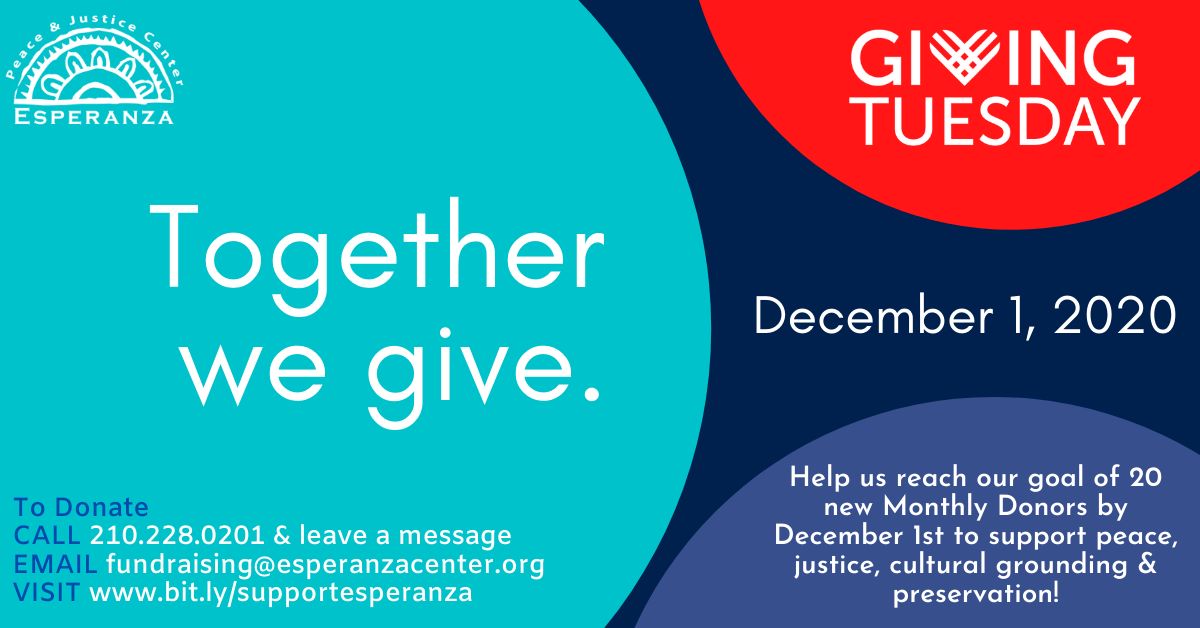 Giving Tuesday is approaching quickly on December 1st! Giving Tuesday is an annual, global celebration that inspires hundreds of millions of people to give, collaborate, & celebrate generosity!
In honor of Giving Tuesday, the Esperanza is trying to reach our goal of 20 or more new Monthly Donors by December 1st. Please consider becoming a Monthly Donor to support peace, justice, cultural grounding & preservation!
Support the artists & cultural programming we present & produce, our work for social, economic, environmental & gender justice we undertake daily, & the additional work we've undertaken during the pandemic to help bring food to individuals struggling to eat or help community members access City financial resources for housing, healthcare, internet access & the like.
We are also working to raise funds to transform Ruben's Icehouse into the Museo del Westside, a community participatory museum to highlight the history & culture of the Westside & to finish the restoration of the Lerma's Building that will be a cultural arts center & community space!
And if you become a Monthly Donor in honor of Giving Tuesday, you will receive a mask made by @FuerzaUnidaSA and hand painted by local artist, Mary Agnes Rodriguez!
There are 3 ways you can sign up to be a Monthly Donor of the Esperanza!
1. Signing up through our Automatic Bank Withdrawal Program is the most beneficial option for the Esperanza as there are no processing fees. Just mail a voided check to 922 San Pedro Ave. so we can use the routing & account numbers to sign you up! You can also call 210.228.0201 and leave a message, and a staff member will contact you.
2. Sign up on our website via PayPal using a card at www.esperanzacenter.org/donate
3. Monthly Donations can be mailed each month to our office at 922 San Pedro Ave.
#GivingTuesday #Donate #ThankYou #EsperanzaPeaceAndJusticeCenter
#Nonprofit #Advocacy #Art #Culture #Preservation #SanAntonio