Poder de Mujer: A Guided Tour and Plática on the Exhibit: Women and Activism in the Westside
Thursday, December 10 @ 7:00 pm

-

8:30 pm
Event Navigation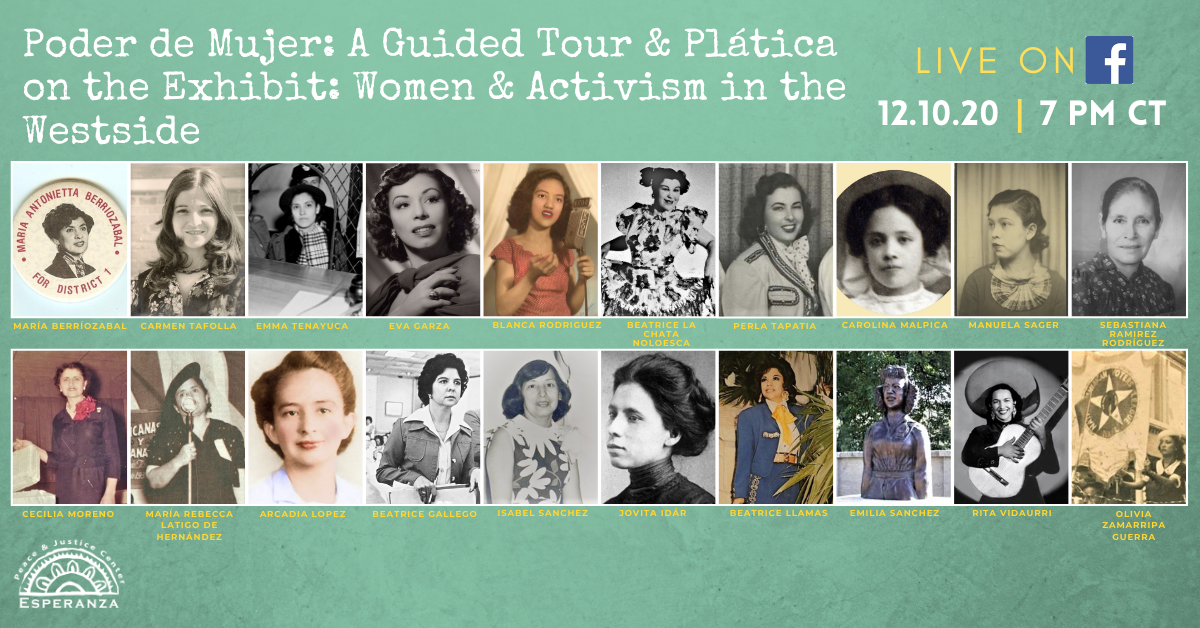 Join the Esperanza Peace and Justice Center as it hosts "Poder de Mujer: A Guided Tour and Plática on the Exhibit: Women and Activism in the Westside," a plática about the Museo del Westside and its inaugural online exhibit "Women and Activism in the Westside," on Thursday, December 10th at 7pm Central Standard Time LIVE on Facebook & YouTube!
Tune in via Facebook @
www.facebook.com/esperanzacenter
Tune in via YouTube at 9:30PM CT for a recording of the event @
www.youtube.com/esperanzacenter
The exhibit tells a more inclusive story of women who marched, boycotted and rallied for social change. Women, who organized church tamaladas, circulated petitions and spoke out at city council meetings. Women who led school PTAs and shared their homes with families displaced by flooded neighborhoods. Women who celebrated their identity and culture and challenged male- dominated industries. Politicians, neighborhood activists, educators, labor leaders, journalists, ranchera singers and carpa performers. Women who intentionally worked toward the change they wished to see. Women who acted on what they believe. Women who are remembered by their daughters and granddaughters, who are vital members of la comunidad del Westside.
You can see the exhibit here: https://www.museodelwestside.org/women-activism
Speakers include co-curators Donna Guerra and Laura Hernández-Ehrisman, who will give a
brief guided tour of highlights from the virtual exhibit, and then will facilitate a conversation with four distinguished guests:
🔶 Community activist María Berriozábal, who was the first Latina to serve on the San Antonio city council and who is profiled in the exhibit along with her abuela, community and church activist Sebastiana Ramírez Rodríguez; https://www.museodelwestside.org/women…/maria-berriozabal; https://www.museodelwestside.org/wom…/sebastiana-rodriguez
🔶 Writer, performance artist and professor Dr. Carmen Tafolla, who has written over
thirty books and was named State Poet Laureate of Texas, who is also profiled in the exhibit; https://www.museodelwestside.org/women…/carmen-tafolla
🔶 Archeologist Dr. Mary Jo Galindo, owner of Galindo Environmental Consulting, LLC based in Austin, Texas, who shared the story of her abuela, radio announcer and civil rights activist María Rebecca Latigo de Hernández; https://www.museodelwestside.org/…/maria-latigo-de…
🔶 Community activist Ramón Vasquez, Executive Director of the American Indians in Texas at the Spanish Colonial Missions and a member of the Tap Pilam Coahuiltecan Nation, who shares his memories of his abuela, labor activist Olivia Sánchez Zamarripa; https://www.museodelwestside.org/…/olivia-sanchez…
About the Co-Curators:
🔶 Laura Hernández-Ehrisman is a cultural historian who lives in Austin, with a PhD in American Studies from the University of Texas at Austin. She was an Associate Professor at St. Edward's University for twelve years, and has written extensively on San Antonio's history. Her book Inventing the Fiesta City: Heritage and Carnival in San Antonio was published by the University of New Mexico Press in 2008, and released as a paperback in 2016. She is currently working on a manuscript on the social history of Latinx workers at Kelly Air Force Base.
🔶 Donna Guerra is a certified archivist with over 20 years experience as a professional and consulting archivist, working with university, government and private archival repositories. She is also an experienced cultural heritage researcher, a member of the Westside Preservation Alliance, and serves on the Advisory Board of the Museo del Westside.
The Esperanza Peace and Justice Center is a nationally recognized nonprofit arts organization dedicated to the intersections of cultural arts and social change. Esperanza's cultural programming champions the lives and experiences of women, people of color, LGBTQ, immigrant, and working class communities.
This programming is made possible by our generous donors and Buena Gente. Donate via credit card @ www.esperanzacenter.org/donate or www.venmo.com/esperanzacenter