Danza de Matachines
Saturday, December 12 @ 6:00 pm

-

7:00 pm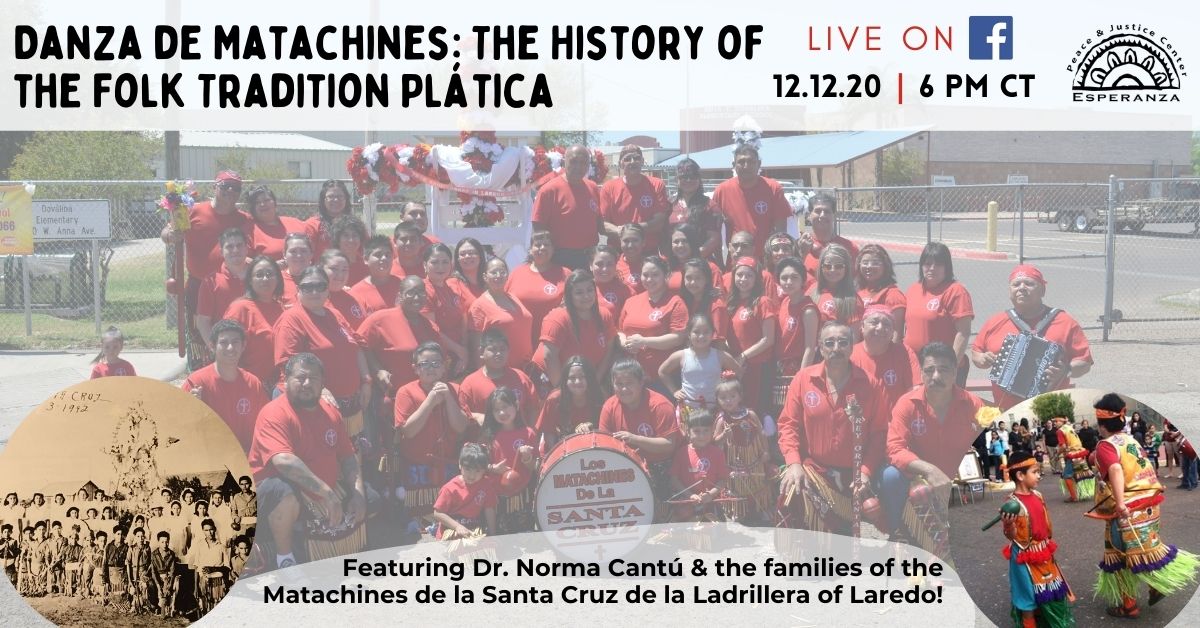 Please join us for a community discussion on the history of the folk tradition of Danza de Matachines on December 12th at 6:00 PM Central Time! Featuring Dr. Norma Cantu and the families of the Matachines de la Santa Cruz de la Ladrillera of Laredo. Streaming Live on Facebook!
Tune in via Facebook @ www.facebook.com/esperanzacenter
The Matachines are a ritual folk tradition that emerged in 17th century Spain and was imported into Latin America, where it merged with indigenous traditions and has been continued for at least 200 years. In northern Mexico and Texas los matachines "de la flecha" and carry a stylized bow and arrow and a maraca, a rattle. Troupes throughout Mexico, Texas and across the United States dance for 9 days prior to December 11, culminating in an all-night vigil or at least hours-long dancing on the 11th for the Virgen de Guadalupe.
Los Matachines de la Santa Cruz de la Ladrillera received a National Heritage Award from the National Endowment for the Arts in 2020. The group traces its origins to the 1800s to a mining area in Central Mexico, and then to Las Minas along the US-Mexico border, before establishing the tradition in Laredo in the early 20th century.
This programming is made possible by our generous donors and Buena Gente. Donate via credit card @ www.esperanzacenter.org/donate or www.venmo.com/esperanzacenter