Historic African-American Communities in San Antonio: A Conversation with Everett Fly
Tuesday, September 11 @ 6:30 pm

-

8:30 pm
Event Navigation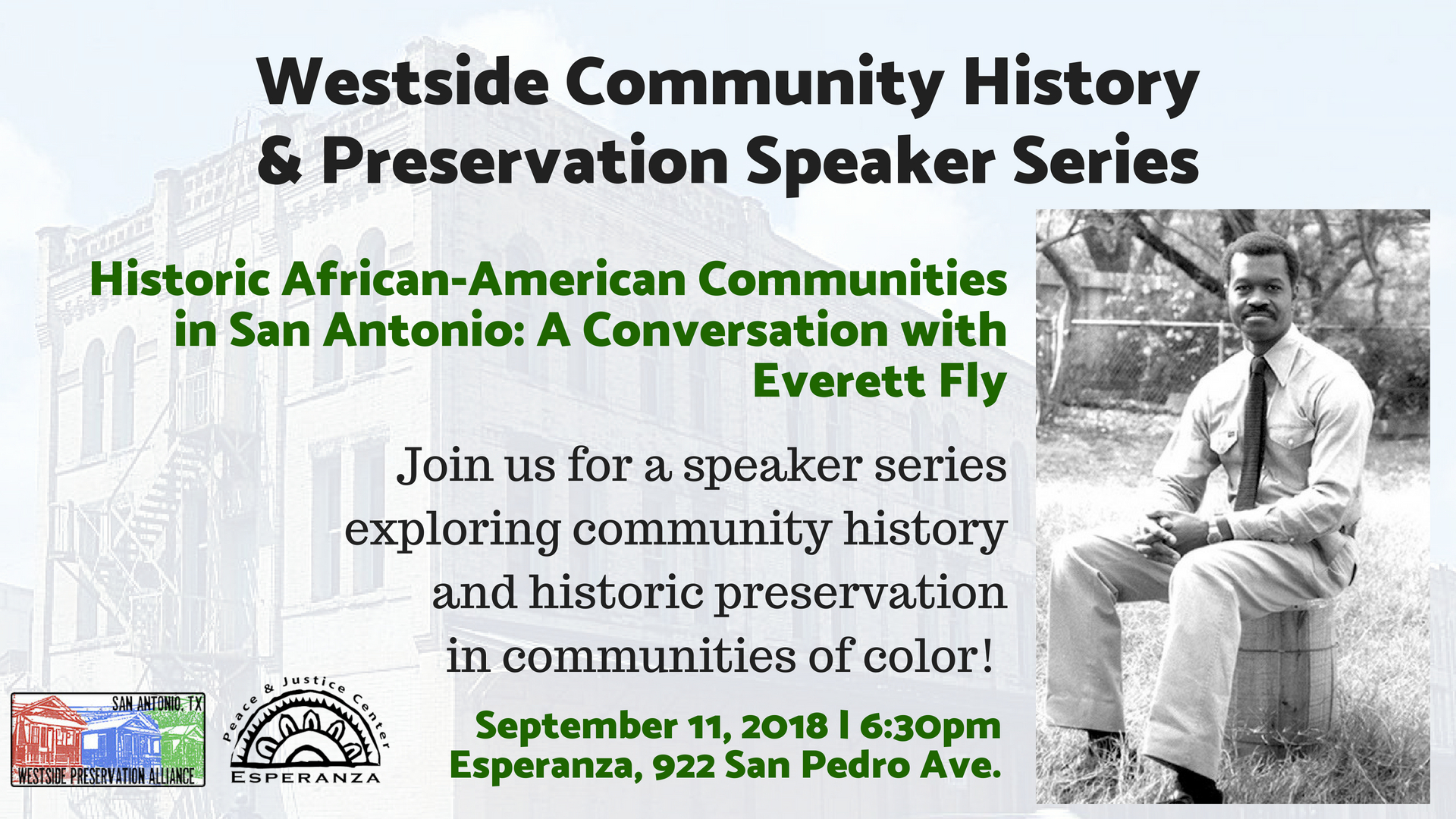 Join the Westside Preservation Alliance and the Esperanza for the first event of our Westside Community History & Preservation Speaker Series! There will be 3 more speakers in this series throughout the rest of 2018.
This series will explore the community history and historic preservation in communities of color!
National Humanities medalist Everett Fly will discuss his work uncovering and preserving African American cultural landscapes in San Antonio and beyond, the importance and challenges of documenting local African American history, and vision for the newly created San Antonio African American Community Archive and Museum.
✨ September 11, 2018 | 6:30pm ✨
Historic African-American Communities in San Antonio: A Conversation with Everett Fly
✨ October 23, 2018 | 6:30pm ✨
Resisting Barrio Displacement in El Paso: A Conversation with Dr. Yolanda Chávez Leyva
✨ November 8, 2018 | 6:30pm ✨
Preserving African-American Sites in Austin: A Conversation with Dr. Fred McGhee
✨ December 6, 2018 | 6:30pm ✨
Escuelitas and the Emergence of a Mexican American Identity in South Texas: A Conversation with Dr. Philis Barragán Goetz
Everett Fly was born and raised in San Antonio. He attended The University of Texas at Austin where he studied architecture, then went on to study landscape architecture at the Harvard University Graduate School of Design. He is a licensed architect and landscape architect, with over thirty years of experience. Fly has worked with the National Trust for Historic Preservation, the National Park Service, and various state and local historical societies and governments on projects including the restoration and extension of the Texas Capitol building.
Fly is an acclaimed pioneer in the field of historic preservation, beginning with his study of historic black settlements as a graduate student at Harvard. Through his efforts to document and preserve African American community sites across the U.S., he has secured National Register of Historic Places designation for diverse locations including Eatonville, Florida, the oldest incorporated African American municipality in the nation (and the setting for Zora Neale Hurston's 1937 novel Their Eyes Were Watching God).
Everett Fly was awarded a 2014 National Humanities Medal by President Barack Obama on September 10, 2015. The National Humanities Medal honors an individual or organization whose work has deepened the nation's understanding of the human experience, broadened citizen engagement with history and literature, or helped preserve and expand Americans' access to cultural resources.