Roundtable on the History and Symbolism of Alamo Plaza
Wednesday, October 10 @ 6:30 pm

-

8:30 pm
Event Navigation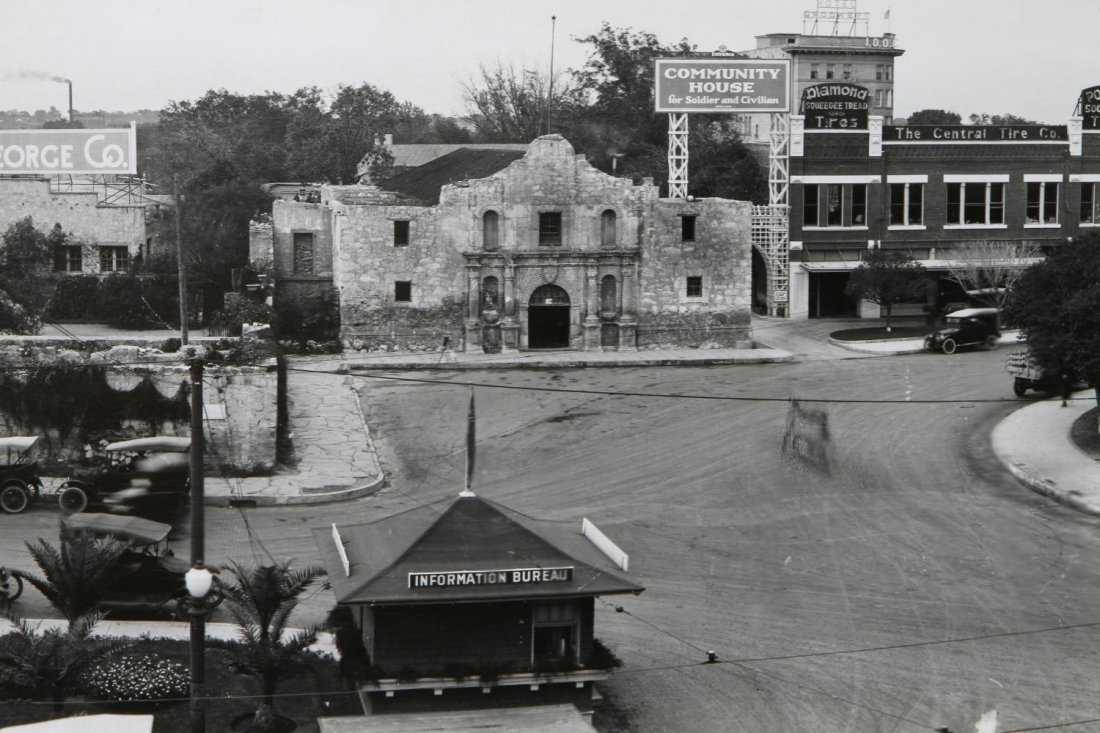 As our city weighs a major redesign of the Alamo, we will consider the larger historical and symbolic meaning of Alamo Plaza. Speakers include Dr. Richard Flores, author of Remembering the Alamo: Memory, Modernity, and the Master Symbol; joined by Dr. Paul Ringenbach, a Historian and Board Member of the San Antonio Conservation Society; ; Dr. Sarah Zenaida Gould, historian; Gary W. Houston, urban planner; and Ann McGlone, former Historic Preservation Officer for the City of San Antonio. Following the roundtable discussion, the audience will be invited to share their views and questions for a community conversation.
The roundtable will be held at 7pm with refreshments at 6:30pm at the Esperanza Peace & Justice Center, 922 San Pedro Ave., San Antonio, TX 78212.
Speaker bios:
Dr. Richard Flores – I am currently Senior Associate Dean for Academic Affairs for the College of Liberal Arts and Professor of Anthropology and Mexican American Studies at the University of Texas at Austin where I hold the C. B. Smith, Sr. Centennial Chair in U. S.—Mexico Relations.   I work in the areas of critical theory, performance studies, semiotics, and historical and cultural anthropology.  I am a native of San Antonio, Texas, and received my B.A. from the University of Notre Dame and Ph.D. from the University of Texas at Austin in 1989. I am the author of Remembering the Alamo: Memory, Modernity, and the Master Symbol (University of Texas Press, 2002), Los Pastores: History and Performance in the Mexican Shepherd's Play of South Texas (Smithsonian Institution Press, 1995), editor of Adina De Zavala's, History and Legends of the Alamo (Arte Público Press, 1996).  In addition, I have published essays in American Ethnologist, Cultural Anthropology, American Literary History, Radical History Review, and in the edited volume, Latino Cultural Citizenship, published by Beacon Press.
Dr. Sarah Zenaida Gould is director of Museo del Westside, an emerging community museum project of the Esperanza Peace and Justice Center. She is co-founder and co-chair of Latin@s in Heritage Conservation, a national organization that promotes historic preservation within American Latino communities and advocates for the protection of American Latino (in)tangible heritage. Gould serves on the board of El Camino Real de los Tejas National Historic Trail Association and is an active member of the Westside Preservation Alliance, a coalition dedicated to promoting and preserving the working-class architecture of San Antonio's historic Westside. She received a BA in American Studies from Smith College and an MA and PhD in American Culture from the University of Michigan. She is a former fellow at the National Museum of American History, the Winterthur Museum, and the American Antiquarian Society, and is an alumna of the National Association of Latino Arts and Culture Leadership Institute.
Gary W. Houston taught Urban and Environmental issues at institutions of higher education in San Antonio for several decades.  For 17 of those years he was a member of the faculty of the Department of Political Science and Geography at the University of Texas at San Antonio. Houston graduated from SAISD schools and holds a Bachelor of Arts in Urban Studies from Dartmouth College and a Master's in Urban Planning from the Yale School of Art and Architecture, with additional study at Yale Law School
Ann McGlone is an architect specializing in historic preservation and urban planning. She holds a Bachelor of Architecture from Kansas State University, a Masters in Historic Preservation from Columbia University, and is a registered architect in Texas. She served as the Historic Preservation Officer for the City of San Antonio for 15 years, where she oversaw design review of the famous Riverwalk, 26 historic districts, and all municipal projects. She served on the President's National Advisory Council on Historic Preservation (ACHP) from 2008 to 2010, and was a member of the Board of Directors for the National Alliance of Preservation Commissions in 2002-2010 and was elected Chair in 2007-2009.

Dr. Paul T. Ringenbach is a member of the Board of Directors of the San Antonio Conservation Society, the Vice Chair of the Bexar County Historical Commission, and on the Board of Directors of Mission Heritage Partners. He holds a BA and MA in History from Lehigh University and a Ph.D. in History from the University of Connecticut. He retired as a Colonel from the Air Force with 28 years of service and as a corporate officer from USAA. He has authored six books and was the lead writer of the successful World Heritage nomination for the San Antonio Missions, the only World Heritage site in Texas.

If you'd like to check out the Facebook event for this, click here!
This program was made possible in part with a grant from Humanities Texas, the state affiliate of the National Endowment for the Humanities, as well as the City of San Antonio Department of Cultural Affairs, National Endowment for the Arts, Texas Commission on the Arts, John L. Santikos Charitable Foundation of the San Antonio Area Foundation, AKR Foundation, CoYoTe PhoeNix Fund, y la buena gente de Esperanza.