32nd International Peace Market "Mercadito"
Friday, November 26 @ 10:00 am

-

Saturday, November 27 @ 5:00 pm
Event Navigation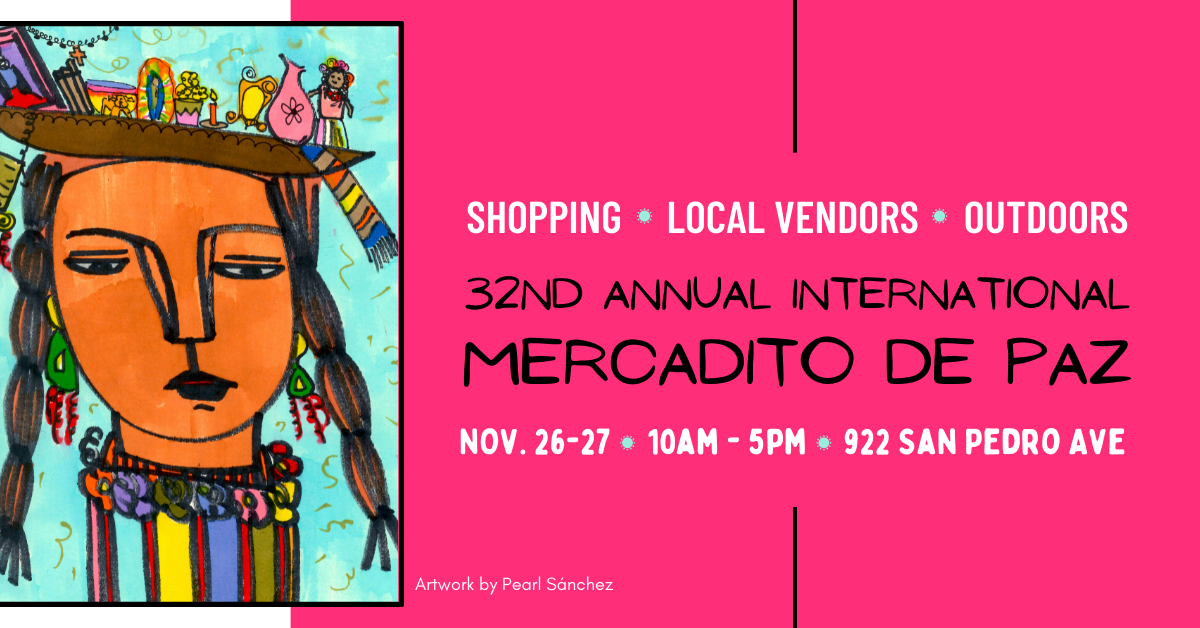 The Esperanza Peace and Justice Center celebrates 32 years of combining the arts with economic sustainability, international exchange, and social consciousness. Peace Market provides a family-friendly safe environment that honors the importance of moments and spaces where people gather together as community.
This year the market will be held outdoors on Friday & Saturday, November 26 – 27 from 10 a.m. to 5 p.m. at the Esperanza Peace and Justice Center at 922 San Pedro Ave., San Antonio, TX 78212.
Celebrating the tradition of open air markets, Esperanza's annual Peace Market has brought people together for over 30 years as comunidad, not consumers. The Mercadito provides an alternative to Black Friday by hosting local artisans and merchants, offering shoppers handcrafted gifts centered around themes of peace, social justice and cultural and environmental preservation.
In past years, our visiting vendors have elevated our Mercado to international status. This year we will miss our international vendors but many of their products will be available in Esperanza's International Tiendita. The Tiendita and MujerArtes Cooperativa de Esperanza will be spread out on the first floor of the Esperanza building.
Parking will be available at the nearby San Antonio College (SAC) parking lots. Shuttle service will also be provided.
In an effort to promote maximum safety for our staff, Buena Gente, and customers, we are encouraging guests to wear face coverings and to social distance. Thank you!
For more info, you can call us at (210) 228-0201 or email us at peacemarket@esperanzacenter.org.
If you'd like to volunteer or make a donation to support this event, please email esperanza@esperanzacenter.org or call us at 210.228.0201 or email.
Come share the experience with us this November at the 32nd annual Mercadito de Paz and enjoy the works of the following vendors:
Juan Tejeda of Aztlan Libre Press * Guadalupe Segura * Carolina Luna Cano of Artesania Xanat * Mildred Hilbrich Jewelry * Linda Monsivais of El Puño y La Mano * Araceli Herrera of Green Clean * Malu Berumen of Libelula Negra * Celeste DeLuna of Meztli Press * Argelia Diaz of Soilnature * Karin Gabrielson of Art of Palm * Lika Torline of In the Weeds * Sebastiana Vinela Lee of Gina Lee's Creations * Xelena González (author) *Jose Sotelo of EL FIN SATX * Paola Conti of Conti Leather Artisan Bags * Bonnie Cisneros of The Last Splash Vintage * Michele Parlee Art * Ed Prado of Brie Blue * Atsuko Taniguchi Metalsmith * Mary Agnes Rodríguez Art * Leti Guerra of BraveBird * Mary Helen Abrams of Helen's Hidden Treasures * Ana Uviedo of Artes Ana * Sonia González of La Crafty Vida * Jennifer Dávila of Con Cariño *and Dick Gonzalo with Prehispanic Pottery & Textiles.
Admission is free!