Otro Mundo Es Posible: Creating Positive Change Under the Current Presidential Administration
Friday, January 18 @ 6:30 pm

-

8:30 pm
Event Navigation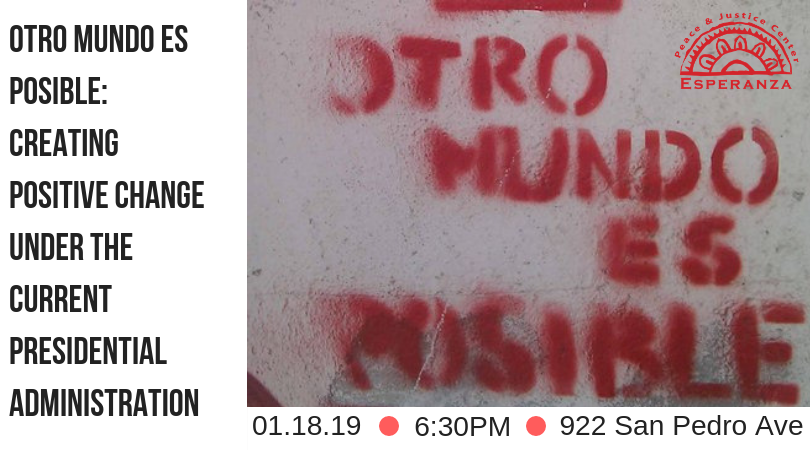 Please join the Esperanza for a DreamWeek / DreamVoice event — Otro Mundo Es Posible: Creating Positive Change under The Current Presidential Administration.
Representatives from various community groups that deal with LGBTQ issues, immigrant issues, housing and gentrification issues, women's issues, and environmental issues will examine the last two years of the current presidential administration and its impact on a local and national level.
According to the most recent FBI Hate Crime Statistics report, hate crimes rose by 17% in 2017. Marginalized communities have continued to survive amidst the violence under this current administration of Trump. Despite the hate and violence, our communities are working tirelessly to create positive change in the world because otro mundo es posible.
PANELISTS
Nadine Saliba
Nadine is a Lebanese-Syrian immigrant who has been working with the Esperanza Peace & Justice Center to educate San Antonio and South Texas residents about the struggles in the Middle East. A translator, Nadine works to bridge the gap between "American" and "Arab American" through cultural understanding and translation, literally and figuratively. She writes for the Esperanza's monthly newsjournal, La Voz de Esperanza, and speaks in the community on the plight of Arab immigrants.
Carolina Canizales
Carolina is the Texas Campaigns Strategist at the Immigrant Legal Resource Center (ILRC). She supports local Texas groups combatting the ongoing collaboration between federal immigration authorities and local law enforcement. She has worked to advance immigrant youth rights for the past nine years and led deportation defense work for five years at a national and local level.
Prior to joining ILRC, Carolina served as the Program Coordinator for the UTSA Center for Civic Engagement, where she increased the civic scholarship and meaningful community involvement for the entire UTSA community. She also oversaw all communications for the Community Services division at the university.
From 2012 to 2016 Carolina led United We Dream's Deportation Defense Program. This program trained and empowered local communities to defend their rights, stop unjust deportations, and challenged ongoing collaboration between local police and Immigration Customs Enforcement (ICE). Under Carolina's leadership, the program helped more than 500 families facing deportation, and held four congressional briefings in both the U.S House of Representatives and U.S. Senate to bring awareness of the deportation problem in immigrant communities.
In 2015, she helped establish the first national and volunteer-led hotline to track raids, checkpoints and other enforcement actions in major immigrant communities, while providing callers with Know Your Rights and legal services information. In the same year, she initiated the strategy and campaign plan to end the 287(g) agreement between the Harris County Jail and ICE.
Carolina has co-authored "Deportation Defense: A Guide for Members of Congress and Other Elected Officials" (2014) and "Ending Local Collaboration with ICE" (2015).
In 2012, Carolina graduated from the University of Texas-San Antonio with B.A. in Communications. She is currently in her second-year of the Master's in Public Administration program at UTSA – The University of Texas at San Antonio. She is fluent in Spanish.
Amy Kastely
Amy Kastely is a nationally recognized authority on contract law, having co-authored a widely-known text entitled "Contracting Law." She is a member of the bar in Texas and New Mexico. Kastely recently retired from her job as a professor of law at St. Mary's University Law School.
Kastely also has written numerous articles exploring how law is shaped by narratives of race, gender, class, and other systems of subordination. Kastely served as lead counsel in Esperanza et al. v. City of San Antonio, the first case recognizing the importance of cultural rights in public arts funding.
In addition, she has represented the Esperanza and numerous community coalitions in litigation and organizing projects involving a broad spectrum of important issues, including protection of the Edward's Aquifer; the right of communities to use public streets, sidewalks, and parks for cultural events and political expression; racial bias in the City's historic preservation practices; and the public's right to witness government deliberations and to hold government officials accountable to democratic values.
Alex Birnel
Alex Birnel is the Advocacy Manager for MOVE-Texas. He is also the San Antonio  Co-Chair of the local Democratic Socialists of America and a Democratic Socialists of America National Political Committee member.
In his role with MOVE-Texas, he leads the issue-based campaigns and focuses on issues affecting young people and other marginalized communities. Alex's helped found MOVE-San Antonio during his time, while he studied anthropology and political science at UTSA. He is an experienced community advocate and organizer who was born in Panama and has lived in San Antonio for over 10 years.