Mexican Genealogy 101: Finding Your Ancestors in South Texas and Mexico
Saturday, May 8 @ 11:00 am

-

12:30 pm
Event Navigation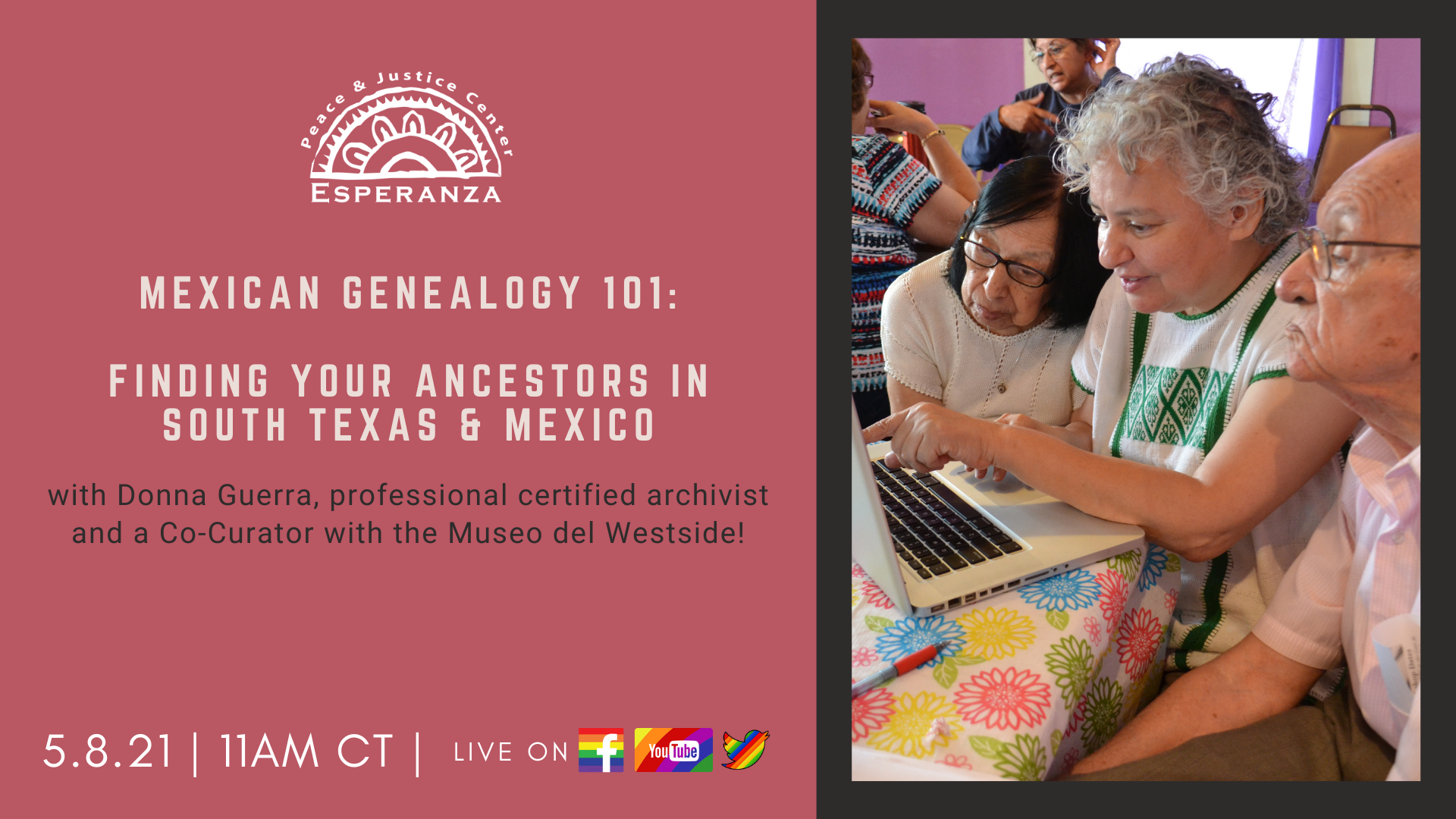 Join the Esperanza Peace and Justice Center, the Historic Westside Residents Association (HWRA), and the Westside Preservation Alliance (WPA) on May 8, 2021 at 11am CT for a beginner's genealogy presentation, "Mexican Genealogy 101: Finding Your Ancestors in South Texas and Mexico," on searching for your Mexican ancestors with Donna Guerra, professional certified archivist and a Co-Curator with the Museo del Westside!
In this presentation we will:
🔸 share about why we want to find our ancestors, and what we hope to gain from the workshop
🔸 document the full names of our ancestors for three generations back (parents, grandparents, great grandparents, and where they were born, where they lived, and where they died)
🔸 practice searching familysearch.org for ancestors
🔸 practice reading Mexican Spanish records, and translating them
🔸 talk about specific terms and abbreviations used in Mexican church records
🔸 share tips on how to work with challenges that we face while doing genealogy research
🔸 prioritize questions after the presentation
Tune in via Facebook at www.facebook.com/esperanzacenter
Tune in via YouTube at www.youtube.com/esperanzacenter
Tune in via Twitter at www.twitter.com/esperanzacenter
For questions, call 210.228.0201 or email esperanza@esperanzacenter.org
This programming is made possible by our generous donors and Buena Gente. Donate via credit card @ www.esperanzacenter.org/donate or www.venmo.com/esperanzacenter. Gracias!