Every Day is Mother's Day! – MujerArtes Sale
Monday, May 3 @ 9:00 am

-

Friday, May 14 @ 5:00 pm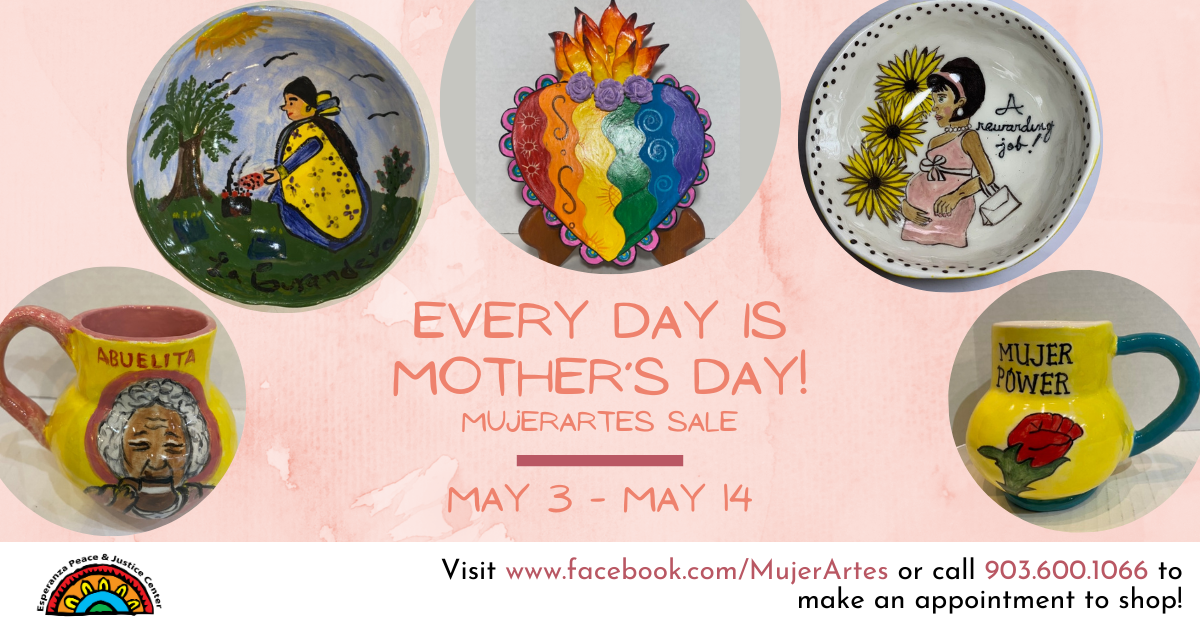 Join the MujerArtes Cooperative de Esperanza as their sale, "Every Day is Mother's Day!," beginning May 3rd and continuing through May 14th! Enjoy beautifully, handcrafted art pieces in honor of Mother's Day!
You can shop online at www.facebook.com/MujerArtes or schedule an appointment to visit the MujerArtes studio at 816 S. Colorado St.
Call (903) 600-1066 to schedule an appointment to shop and to pick up items purchased online. Please make sure to wear your masks when visiting! Thank you!
Español: Anna Jarvis fue la mujer que creó el Día de las madres. Fue un deseo de su madre antes de morir que alguien creara un día para conmemorar a las madres por su servicio a la humanidad. Sin embargo, cuando las personas comenzaron a utilizar este día como un día comercial, Jarvis odio este día. Anna Jarvis falleció a los 84 años el 27 de noviembre de 1998. Nunca se casó ni tuvo hijos.
English: Anna Jarvis was the woman that created Mother's Day. Her mother's wish before passing away was for someone to create a day to honor all mothers for their service to humanity. However, when people started using this day as a commercial day, Jarvis hated that day. Anna Jarvis passed away at the age of 84 on the 27th of November in 1998. She never got married or had children.