Giving Tuesday con Esperanza | Help us fund a Museo del Westside
Tuesday, November 27 @ 12:00 am

-

11:59 pm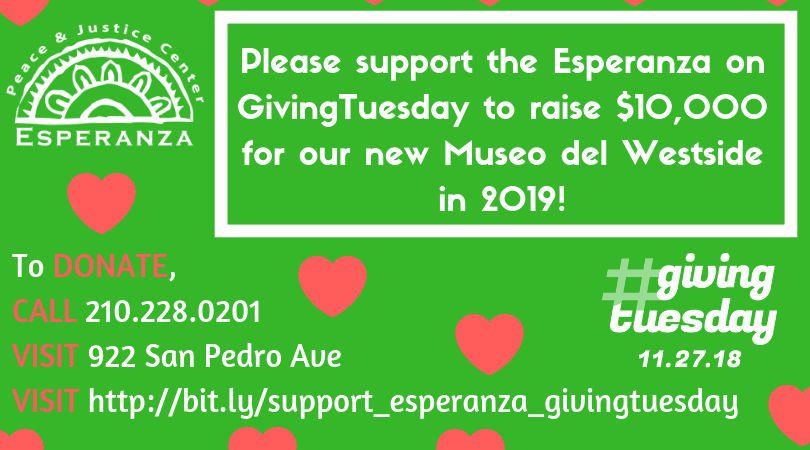 **Donate ONLINE at esperanzacenter.org/donate-2 OR in person at our main office at 922 San Pedro Ave. 10am-7pm.**
#GivingTuesday is a global day of giving that harnesses the collective power of individuals, communities and organizations to encourage philanthropy and to celebrate generosity worldwide. This year's #GivingTuesday will take place on November 27th and will kick off the giving season by inspiring people to collaborate and give back.
Help us raise funds for our latest project — Museo del Westside! The "Museo del Westside" is a project of the Esperanza Peace & Justice Center, and will present Westside history through artifacts, photographs, and oral histories that speak to our past, present, and future. The Museo will make its home at our Westside location at 816 S. Colorado.
The Museo del Westside had its first exhibit earlier this year at the Alazan Community Room. The "Los Courts" traveling exhibit focuses on the Alazan-Apache Courts in the Westside of San Antonio, Tejas. Highlighting the Courts' origins during the Great Depression, the exhibit explores life at Los Courts and the role they play in providing housing in the Westside.
#LatinosGive2018
HIPGive is a crowdfunding platform that facilitates investments in Latino communities across the Americas. This year they will be matching people's individual donations for #GivingTuesday up to $200/individual donation. In other words, if you donate $200, then HIPGive will match with $200 meaning the Esperanza will receive $400. However, if you donate $500, only $200 can be matched, meaning the Esperanza will receive $700. Please donate online ➡️ http://bit.ly/HipGiveMuseo OR in person at 922 San Pedro Ave. now-7pm.