Escuelitas and the Emergence of a Mexican American Identity in South Texas: A Conversation with Dr. Philis Barragán Goetz
Thursday, December 6 @ 6:30 pm

-

8:30 pm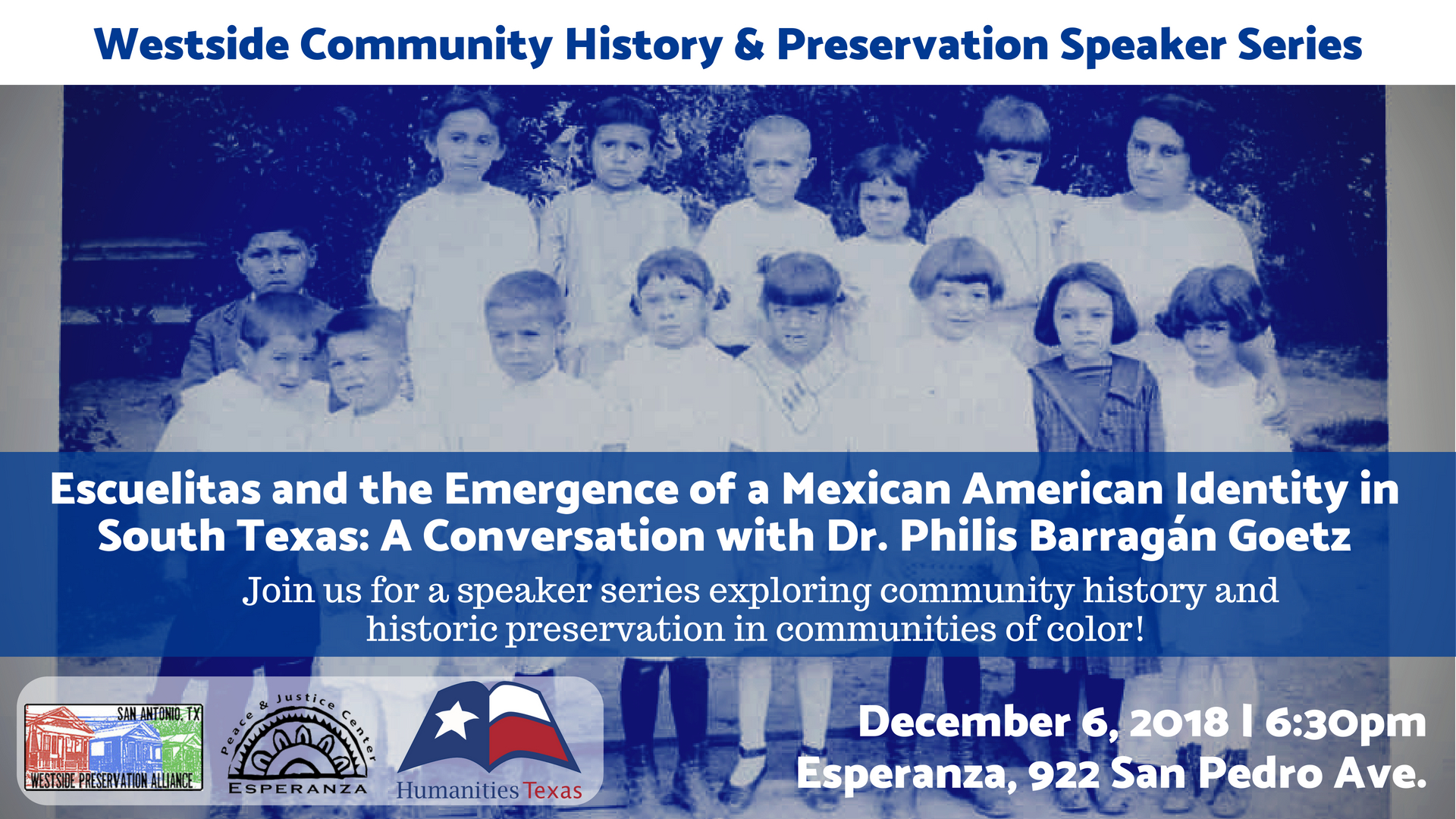 Escuelitas and the Emergence of a Mexican American Identity in South Texas: A Conversation with Dr. Philis Barragán Goetz
Join the Westside Preservation Alliance and the Esperanza for the third event of our Westside Community History & Preservation Speaker Series! There will be one more speaker in this series in December.
This series will explore community history and historic preservation in communities of color!
From the 1880s to shortly after World War II, escuelitas, or little schools, could be found across South Texas. Mostly run by women who taught Spanish literacy, Mexican history, and sometimes English proficiency, the schools were a reaction to South Texas' segregated Mexican schools where pupils were forbidden from speaking Spanish, and Mexican American history was either excluded from the curriculum or demeaned by the teachers. Escuelitas filled in the gaps in schooling and built pride among Mexican American children. Dr. Barragan will share locations of escuelitas in South Texas and stories of the teachers and children associated with them.
ABOUT DR. PHILIS M. BARRAGAN GOETZ
Philis M. Barragán Goetz received her Ph.D. in American Studies from the University of Texas at Austin. She is an Assistant Professor of History at Texas A&M University-San Antonio, where she teaches classes in Mexican American history, women's history, Texas history, and United States social and cultural history. She is also Texas A&M San Antonio's community liaison to the San Antonio African American Community Archive and Museum. Her manuscript, Reading, Writing, and Revolution: Escuelitas and the Emergence of a Mexican American Identity in Texas, is under contract with the University of Texas Press.
✨ September 11, 2018 | 6:30pm ✨
Historic African-American Communities in San Anto w/ Everett Fly
✨ October 23, 2018 | 6:30pm ✨
Resisting Barrio Displacement in El Paso w/ Yolanda Chávez Leyva
✨ November 8, 2018 | 6:30pm ✨
Preserving African-American Sites in Austin with Dr. Fred McGhee
✨ December 6, 2018 | 6:30pm ✨
Escuelitas and the Emergence of a Mexican American Identity in South Texas: A Conversation with Dr. Philis Barragán Goetz
This program was made possible in part with a grant from
Humanities Texas
, the state affiliate of the
National Endowment for the Humanities
.