Esperanza's Big Give SA Fundraiser!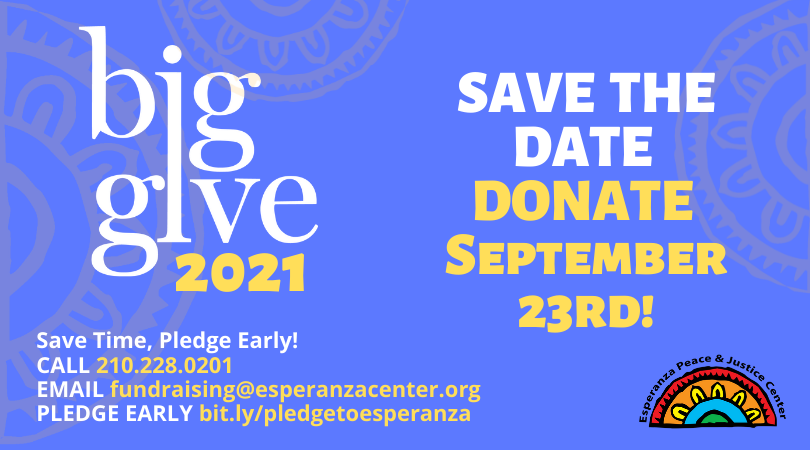 Support the Esperanza on Thursday, September 23rd for the Big Give San Antonio, a full day of online giving to nonprofits in South Texas! Help us reach our goal of $16,000 and 10 new Monthly Donors to support the Esperanza's cultural programming and community organizing! 🌈
Your gift of $10, $20, $50, or more, or your commitment to become a Monthly Donor, is a gift of solidarity, supporting our shared goal of creating a more just, inclusive, and progressive community for all of us. ❤️
To save time & pledge early,
🔶 call 210.228.0201 and leave a message,
🔶 email fundraising@esperanzacenter.org,
🔶 or visit bit.ly/pledgetoesperanza
To donate on September 23rd, visit bit.ly/BigGiveEsperanza
You can also mail in your donation to our office at 922 San Pedro Ave., San Antonio, TX, 78212.
FYI, on September 23rd, you can take advantage of matching funds which run out QUICKLY by donating at the Matching Minutes at 9:15 AM, 12:15 PM,1:15 PM, 2:15 PM, 6:15 PM, & 11:15 PM ON THE DOT (Central Standard Time) to increase your donation!
🚨 Begin typing in your credit card information 5-10 minutes before the minute, so that you can submit your donation right when the clock strikes on the minute!
THANK YOU FOR YOUR SUPPORT!❤️
☎️ We will be phone banking before The Big Give SA to sign-up early pledges and to remind our community to donate on Thursday, September 23rd at the Matching Minutes! ☎️
To volunteer to phone bank:
Visit → bit.ly/phonebank4esperanza
Email → esperanza@esperanzacenter.org
Call → 210.228.0201 & leave a message!
For questions, call 210.228.0201 and leave a message or email us at fundraising@esperanzacenter.org.