Don't Demolish: Save the Alazán Apache Courts and Preserve Public Housing!
Saturday, January 16 @ 10:00 am

-

11:30 am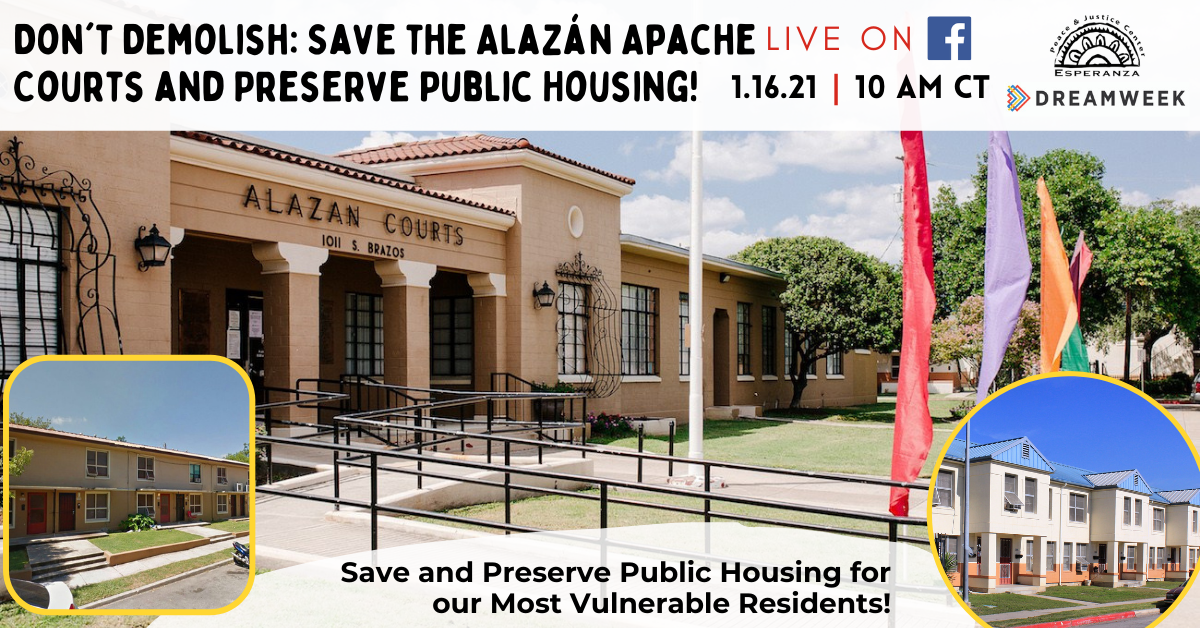 Join us on Saturday, January 16, 2021 at 10AM CT via Facebook for our first event of the year, "Don't Demolish: Save the Alazán Apache Courts and Preserve Public Housing!"
As part of Dreamweek 2021, this virtual community discussion is about the proposed demolition and redevelopment of the Alazán Courts, San Antonio's oldest and largest public housing community, and efforts to save it and preserve public housing! The panel will include the San Antonio Housing Authority (SAHA ) tenants, affordable housing policy advocates, and neighborhood residents. Save and Preserve Public Housing for our Most Vulnerable Residents!
Panelists include:
– Kayla Miranda,
– Jacquline Caldwell
– Christine Drennon, PhD
– Antonia Castañeda, PhD
– John Washington
– Robert Winterode
– Teri Castillo
Tune via Facebook at www.facebook.com/esperanzacenter
San Antonio Housing Authority (SAHA) has proceeded with their plans to demolish the Alazan Courts despite months of public outcry against demolition. Demolition of 501 public housing units will displace 1200 individuals throughout San Antonio and beyond and replace public housing with mixed-income apartments.
Multiple issues surround the demolition and redevelopment, including the importance of the historic and cultural preservation of the Alazán Courts to the neighborhood; the loss of public housing that protects our most vulnerable populations; the ongoing neglect of existing public housing units while planning for yet more development; and the manner in which redevelopment can spur further gentrification and displacement in the larger community. Additionally, SAHA tenants request a role in the selection of the new CEO of SAHA who will respect the rights of tenants and prioritize keeping buildings in dignified living standards.
The Esperanza Peace & Justice Center is featured among several LGBTQ organizations, including interviews with Executive Director Graciela Sánchez and Conjunto board member Gloria Ramírez.
This programming is made possible by our generous donors and Buena Gente. Donate via credit card @ www.esperanzacenter.org/donate or www.venmo.com/esperanzacenter