Development Without Displacement: Honoring and Respecting Community Voice for Community Benefit
Saturday, January 23 @ 10:00 am

-

11:30 am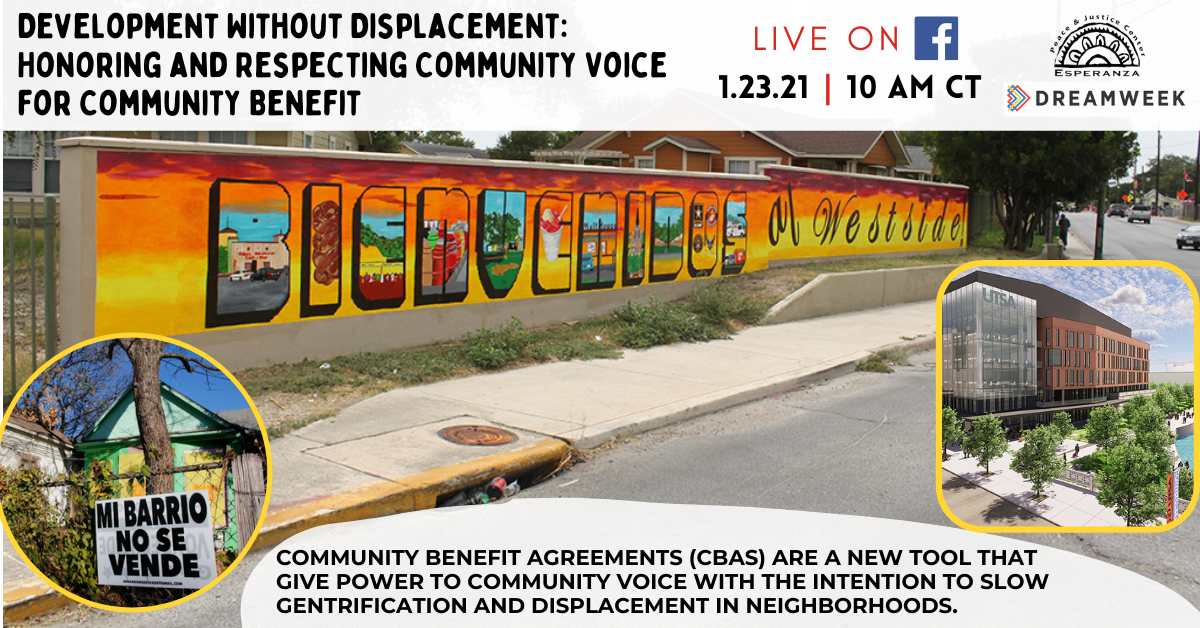 Join us on Saturday, January 23, 2021 at 10AM CT via Facebook for "Development Without Displacement: Honoring and Respecting Community Voice for Community Benefit."
As part of Dreamweek 2021, we are hosting a virtual discussion between San Antonio's Mi Barrio No Se Vende Coalition and the Houston Coalition for Equitable Development without Displacement (HCEDD) about community organizing efforts for proposed Community Benefits Agreements (CBA's) in both San Antonio and Houston.
Panelists include:
– Uyiosa Elegon
– Mary Claire Neal
– Dr. Jerry González
– Sofia Lopez
– Adriana Abundis
– Edward W. De Barbieri
– Judit Vega
Tune via Facebook at www.facebook.com/esperanzacenter
The Houston Coalition for Equitable Development without Displacement (HCEDD) has a goal to secure a Community Benefits Agreement with Rice University as it expands development adjacent to Houston's Third Ward. Likewise, the Mi Barrio No Se Vende Coalition is organizing to seek a Community Benefits Agreement with the University of Texas-San Antonio (UTSA) to benefit the nearby historic Westside community in their downtown expansion. We have seen that in low-income communities of color across the country, development projects can accelerate gentrification and displacement of neighborhoods and residents.
A Community Benefits Agreement is a legally binding, enforceable agreement signed by community groups and a real estate developer that requires the developer to provide specific mitigations to the local community. The agreement could be to ensure educational opportunities, historic and cultural preservation, affordable housing, living-wage jobs, food security- anything that the community identifies as needs that the developer can meet.
Panelist bios:
Uyiosa Elegon is a co-organizer of the Houston Coalition for Equitable Development. He is also a co-founder of the Institute of Engagement, a collective that helps young people take responsible ownership of their Houston. As an organizer, Uyiosa concerns himself with the material realities of youth power, pleasure, and pain.
Mary Claire Neal is a co-organizer of the Houston Coalition for Equitable Development without Displacement (HCEDD). She grew up in Tyler, Texas and is a fourth-year student at Rice University studying sociocultural anthropology.
Dr. Jerry González is an Assistant Professor in the UTSA Department of History. He received his Ph.D. in American History from the University of Southern California (USC) in 2009. His dissertation was titled "A Place in the Sun: Mexican American Identity, Race, and the Suburbanization of Los Angeles, 1940-1980". His research interests are Chicana/o history and historiography, Latina/o identity, comparative race and ethnicity in the United States, immigration history, the history of Los Angeles and the west, and twentieth-century U.S. history and urban history. He participated in a highly selective and intensive workshop series organized by the Center for Excellence in Teaching through USC's College of Letters, Arts, and Sciences designed to prepare advanced Ph.D. students for faculty positions. He has a book manuscript in progress on Mexican Americans and the Postwar Suburban Dream and has done numerous presentations on barrio history, East Los Angeles, urban renewal, suburbanization, and space and identity. He has taught classes on film, power, and American history; war and the American experience; and Mexican American history. He has also worked with students of color in directing them on deciding on graduate school programs.
Sofia Lopez is a Senior Researcher at the Action Center on Race & the Economy (ACRE), where she does research in support housing and racial justice campaigns across the country. Sofia works to expose how the financial and real estate sectors extract maximum profit from communities of color through housing and use their wealth to wield immense political power at the local and national level. Prior to her role at ACRE, Sofia worked at a community development intermediary, where she supported Latinx-serving asset-building non-profits across the country. Sofia has worked in city government, and prior she worked as a community organizer. Sofia is based in San Antonio and holds a Master of City Planning from the MIT and a BA from Swarthmore College.
Adriana Abundis Alonso is a culturally relevant pedagogue, master teacher, community art organizer and culture protector. As a social justice advocate and diversity, language, equity and inclusion focused pedagogue, she is committed to amplifying a liberatory education for youth. Abundis is a 3-time San Anto Cultural Arts community muralist, 2020 Texas Teacher of the year finalist and Masters graduate from both UTSA's Bilingual and Bicultural Studies and the Relay Graduate School of Education. Abundis currently teaches Dual Language Algebra and Mexican American Studies at Sidney Lanier High School. Abundis describes herself as a Xicana who seeks to ground her life in radical love, reflection and action.
Professor Edward W. De Barbieri teaches courses in community economic development law and directs the Community Economic Development Clinic, which focuses on community-based transactional skills and advocacy. His scholarship examines ways the public can engage in land use approvals and economic development activities and how that engagement can lead to reforms in economic and social systems. His articles have appeared or are forthcoming in the Fordham Law Review, Florida State University Law Review, Cardozo Law Review, Fordham Urban Law Journal, and Journal of Affordable Housing & Community Development Law. Prior to joining the Albany Law School faculty in 2016, Professor De Barbieri directed a community economic development clinic at Brooklyn Law School, and was an Adjunct Professor of Clinical Law at New York University School of Law. His background also includes work as a legal services attorney at the Community Development Project of the Urban Justice Center, beginning as an Equal Justice Works fellow. He spent his final year of law school conducting research in Ireland as a Fulbright fellow, and is a graduate of Yale Divinity School, where he concentrated in religious ethics.
This programming is made possible by our generous donors and Buena Gente. Donate via credit card @ www.esperanzacenter.org/donate or www.venmo.com/esperanzacenter Gracias!