POSTPONED – 2021 Westside History Symposium: In Memory of the 1921 Flood
Event Navigation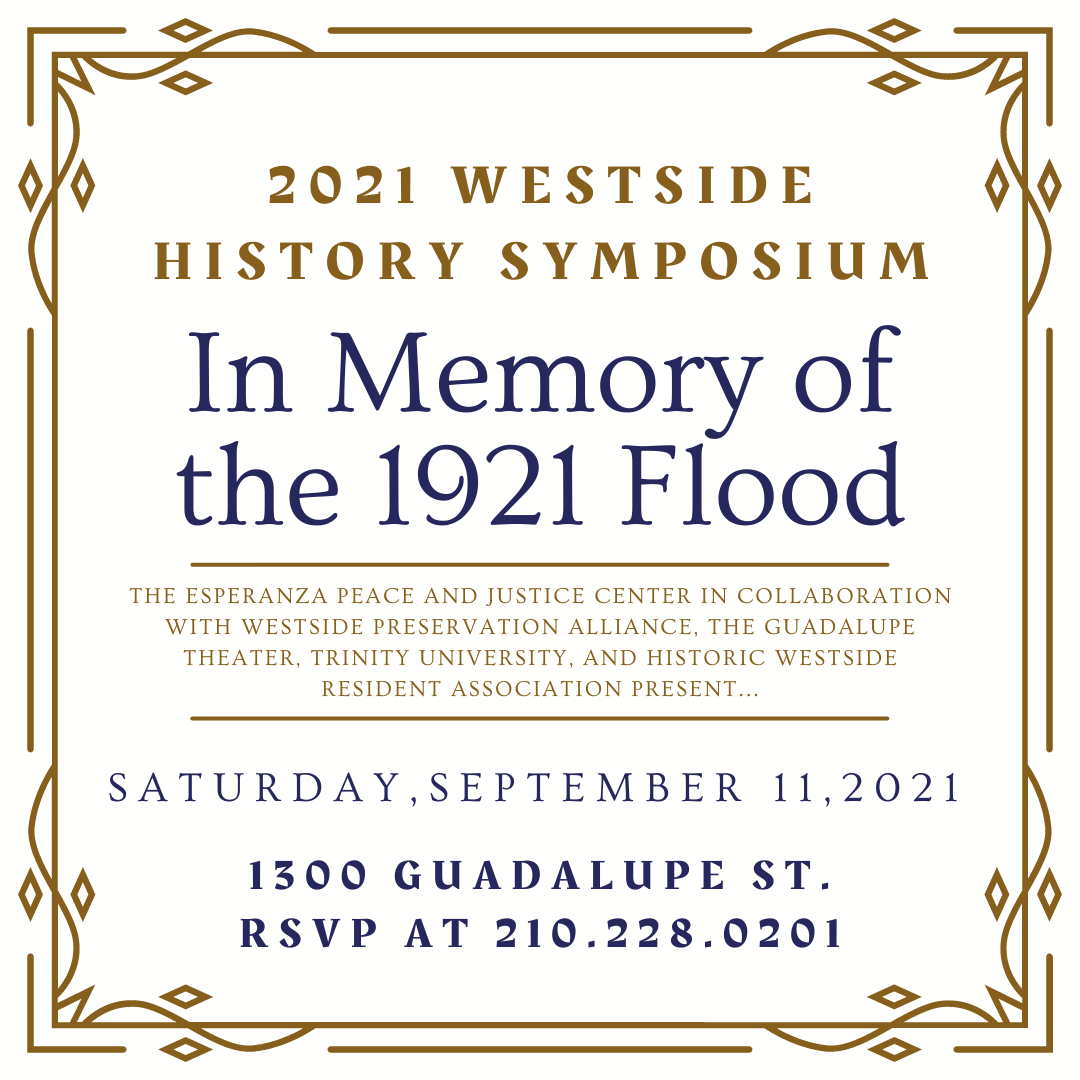 THIS EVENT IS POSTPONED.
In view of the surge of the Delta virus, a strain more contagious than original Covid-19, we have decided to postpone this event til later this year. Hopefully this event will be in-person, but it is possible this symposium will be virtual. Stay tuned for the new date!
The Esperanza Peace and Justice Center in collaboration with Westside Preservation Alliance, The Guadalupe theater, Trinity University and Historic Westside Resident Association are hosting an event commemorating the 1921 flood on the Westside of San Antonio.
The event includes keynote speaker Dr. Char Miller, author of West Side Rising: How San Antonio's 1921 Flood Devastated a City and Sparked a Latino Environmental Justice Movement. This event will also include panel discussions, a book signing, and circle of Remembrance. Please refer to the schedule below.
About the book:
West Side Rising is the first book focused squarely on San Antonio's enduring relationship to floods, which have had severe consequences for its communities of color in particular. Examining environmental, social, and political histories, Char Miller demonstrates that disasters can expose systems of racism, injustice, and erasure and, over time, can impel activists to dismantle these inequities. He draws clear lines between the environmental injustices embedded in San Antonio's long history and the emergence of grassroots organizations that combated the devastating impact floods could have on the West Side.
Preorder the book now for 20% off using promo code "ESPERANZA" or "MACRI" HERE.
Location: Historic Progreso Drugstore at 1300 Guadalupe St., San Antonio, Texas, 78207
Schedule:
7:30 am 1921 Flood Creek Side Remembrance – El Paso St. at the Alazan Creek
8:30 am Check-in and refreshments at the Progreso – 1300 Guadalupe St
9:00 am Welcome
9:10 am Keynote – The History and Legacy of the 1921 Flood – Dr. Char Miller
10:00 am Panel – Community Organizing for Flood Abatement
11:10 am Panel – Restoration of the Alazan & Apache Creeks
12:00pm Lunch & Book Signing
1:30 pm Artistic Interpretations
2:10 pm Remembering the Dead:

Funerary Practices in Central Tejas and the Border- Dr. Ana Juarez
Preserving Historic Tejano Cemeteries- Diana Hernandez

3:20 pm Tour of 1921 Flood Graves at San Fernando Cemetery #1 – Sylvia Reyna 1110 S. Colorado St.
4:30 pm Circle of Remembrance and Closing Reception at Casa de Cuentos 816 S. Colorado St.
Please RSVP for this event by calling 210-228-0201.
This programming is made possible by our generous donors and Buena Gente.
Donate via credit card @ www.esperanzacenter.org/donate or www.venmo.com/esperanzacenter. Gracias!