MujerArtes
The women of MujerArtes consist of dedicated individuals from all ages, races, ethnicities, sexual identities, religious and political ideologies, and socioeconomic upbringings. We came to the Esperanza at different times in our lives. Some of us have stayed a while, some have left, and others return at leave as their needs direct them. We are people surviving in a world overwhelmed with hate and anger, but we are also people who still hold on to hope. We believe in the role of art and culture in helping to share that hope. We believe that peace and justice can be reached, but we are people who also know that the road to esperanza, peace, and justice takes time and patience. Despite this, we are committed to the mission and vision of the Esperanza. We are Esperanza.
Rosa V.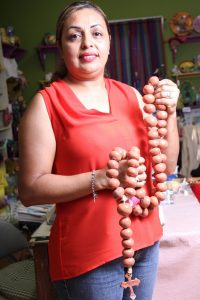 Artist
I am Mexican and lived there until we moved to San Antonio, Texas. My son and two daughters are the most sacred parts of my life. I like being an artist because I get to coexist with all my friends – they are my second family. I knew very little about art a year ago, now I know more and I want to keep learning.
Sonia D.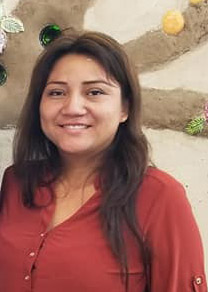 Artist
I was born in El Salvador in 1977. I was the seventh daughter born to Salvadorian parents. I never aspired to be an artist. I was impassioned with helping and serving the community and when I finished my studies at the National University of El Salvador I pursued my dream of becoming a medical doctor. After 4 years of study I emigrated to the United States where I got married and had three beautiful children. During that time I was filled with regret about abandoning my studies and felt an emptiness in my heart. That has now disappeared, thanks to MujerArtes I have found a new dream working with clay and remembering my land, my childhood, and my traditions and culture.
Amalia I.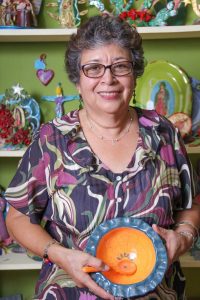 Artist
My family has lived in Kansas since the early 1900's. I graduated from Emporia State University with a degree in Education. I taught Spanish and ESL for a few years eventually working for the Santa Fe Railway in my hometown of Emporia. I worked in Kansas City and Fort Worth, Texas and took early retirement moving to San Antonio with my husband, Regino (Kiko). My son, Sergio, who lives in Novato, California and his wife, Kate, have three beautiful grandchildren, Jaeden Miguel, Mateo Rey and Evelina (Evie).
Ana U.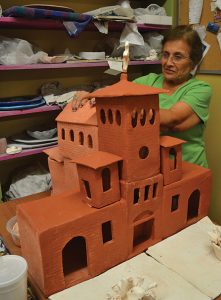 Artist
I was born in San Antonio to Lorenzo and Soila Escalera. Our home was on Espada Rd. and we later lived off of S. Flores St. where I now live with my husband Joe. We have 4 children and 10 grandchildren—our love and joy. On May 9, 2005 I joined MujerArtes when Cindy Rodriguez was coordinator. I am celebrating my 10th anniversery with MujerArtes this year and have made many plates, bowls, jugs, trees of life etc. I was a floral designer for about 27 years and loved it. I also make jewelry with metal clay, embossing, porcelain dolls, nichos and "Day of the Dead" folk art. I built Our Lady of Guadalupe Church for this exhibit because my husband was raised by the church with its ringing at 6am when we met. I have dedicated this to him and in memory of Rev William Thomas Dillon.
Ana Laura M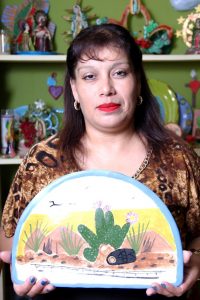 Artist
I was born in Nuevo Laredo, Tamaulipas and grew up in San Luis Potosi with my grandmother. I love sports and I practice Zumba. I love to cook and love art. I make plates and figures with clay and enjoy that very much. I hope the MujerArtes program continues on for many years—so other women may have the opportunity to learn like me.
Arlene M.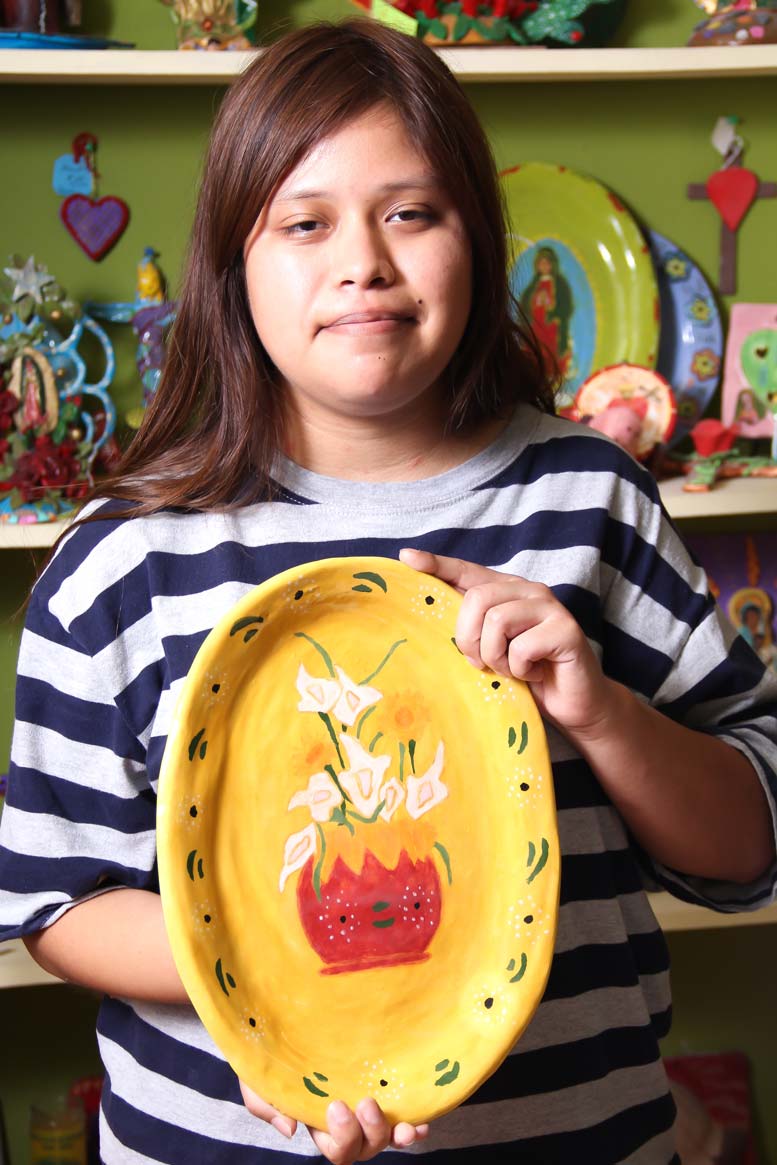 Artist
I was born in Laredo, TX. I heard about MujerArtes on TV and liked the idea of joining because I like Mexican ceramics and art. I have been at MujerArtes about a year. During this time I have learned a lot and want to learn more.
Grace G.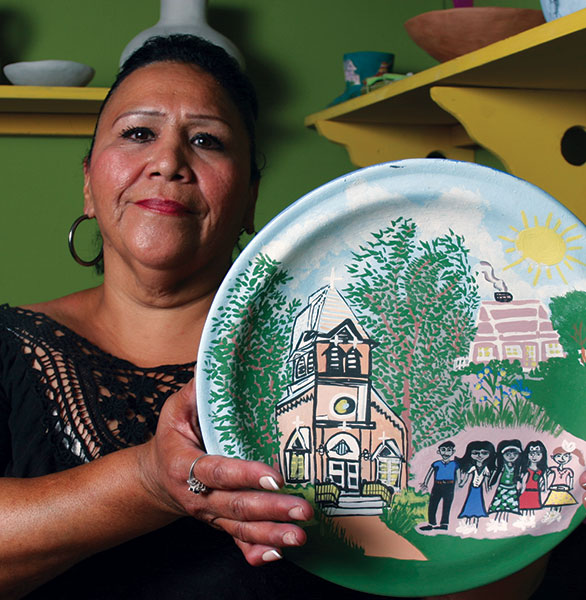 Artist
Grace was born and reared in San Antonio's near Westside. Grace has attended MujerArtes for the past 7 years.
Graciela Soria S.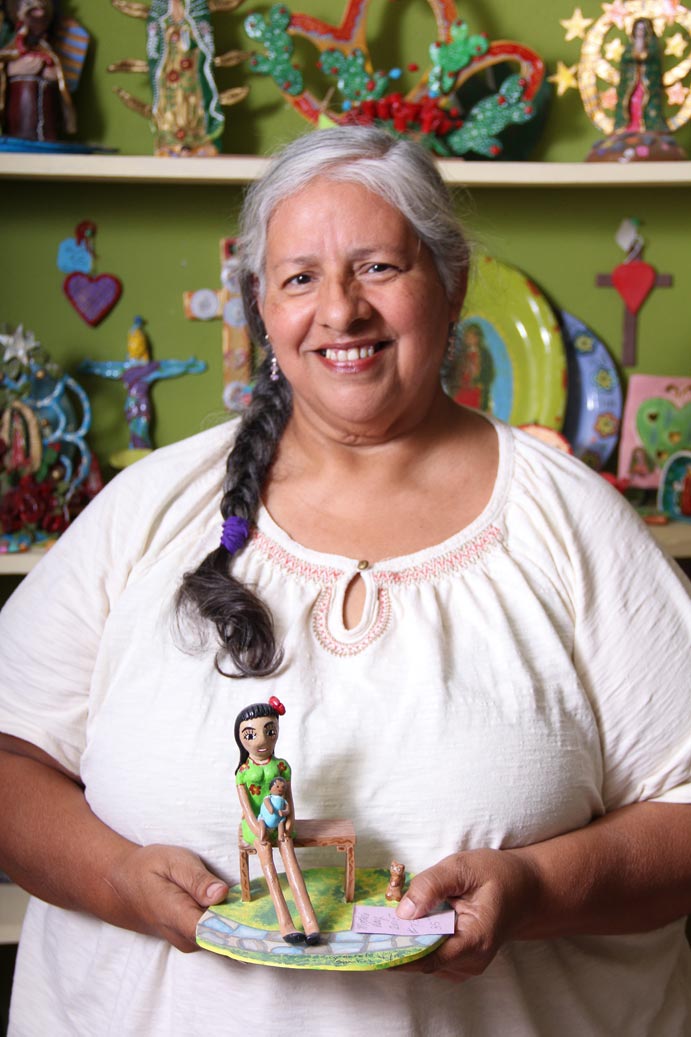 Artist
I was born to a loving couple named Estella Picaso and Manuel Soria. I was the seventh of nine siblings. As children, my mom taught us to make cascarones, sew, crochet, and do crafts. I'm still doing art and crafts. My passion is painting which I can do at MujerArtes. I feel very accomplished and continue to love the arts.
Juana Hilda R.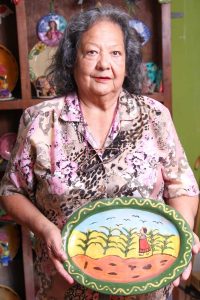 Artist
I am from Piedras Negras, Coahuila, Mexico. I have lived in San Antonio, Tejas for 20 years. I have been with MujerArtes for 6 years learning how to work with clay. My first teacher was Veronica Castillo. I was very happy with her and learned a lot. My second teacher, Imelda Arisméndez, is also a very good teacher and a good friend. She treats me very well and has a lot of patience with me.
Olga M.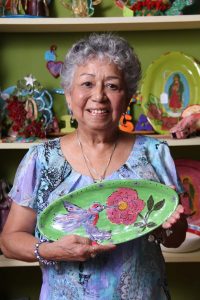 Artist
I have always liked art but it has been difficult for me to have time for it. I was happily married for 39 years but am now a widow of 14 years. Between my responsibilities as a mother, grandmother, and great grandmother, volunteer work and serving at church it left me very little time. At MujerArtes it's been a dream come true. I have experienced art in a wonderful way. Learning has been fun and exciting. I see art everywhere. Exciting colors and forms. Thank you Jesus, Thank you MujerArtes for the opportunities you have given me.
Adriana N.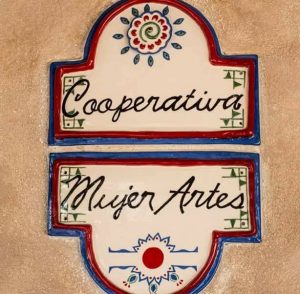 Teri B.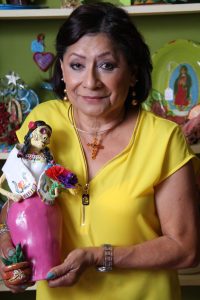 Artist
I was born in my Grandma Concha's home in the Five Points neighborhood of San Antonio. Later, I moved with my parents, Roberto & Estella, to the Veramendi Homes on the Westside. My father passed away at age 24. We then moved around to places such as Chicago and Merced, California oftentimes doing migrant work picking cherry tomatoes, grapes, oranges, etc. In 1967 we moved back to San Antonio and were called "The California Girls" by our cousins. I attended Mark Twain Jr. High & Thomas Edison High, began employment in 1975 with the Texas Department of Public Welfare—later called Texas Health & Human Services, and retired in 2008. My biggest accomplishment is raising my daughter, Annette, age 43, to be a independent hard working woman & a fabulous mother.
Imelda Arismendez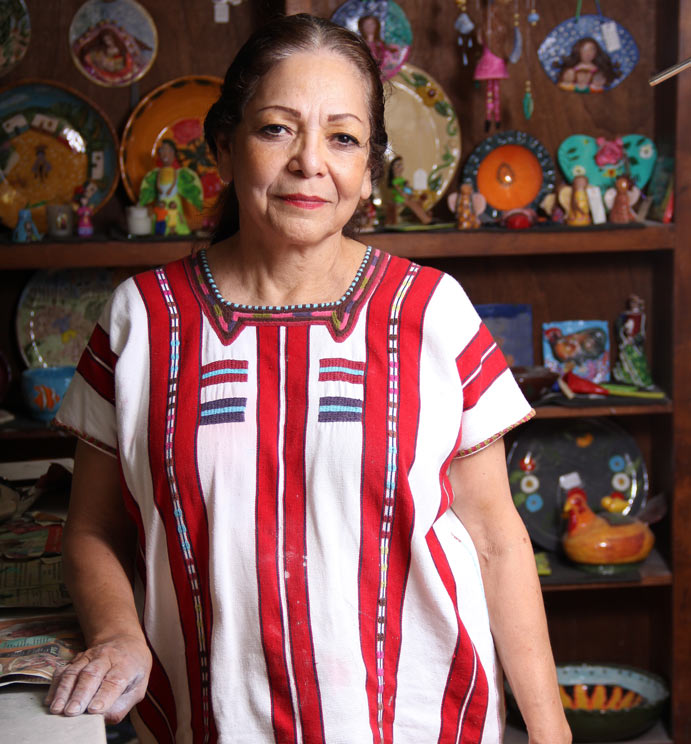 Former MujerArtes Coordinator & Teacher
One of the founding members of the first class of MujerArtes. My first teacher was Magda McChesney and I remember her softening the clay by slamming it on to the floor. I have learned from each teacher and have been part of many groups of mujeres at la casita. Veronica Castillo's child, Alfonsina, grew up with us at MujerArtes. Each teacher has taught me something and as a result I have become a clay artist, myself. I try to work the best way I can with each woman and look forward to developing a new studio of our own at El Rinconcito de Esperanza.
Imelda Arismendez, siempre presente!
May 1949 - May 2017
Our dear staff member, Imelda Arismendez, coordinator of MujerArtes passed into spirit this summer after receiving a diagnosis of terminal illness. Imelda was one of the original artists of the women's clay cooperative that opened in 1995. This was Imelda's 20th year with MujerArtes and the Esperanza Peace and Justice Center where she not only represented MujerArtes but also was actively involved in programming, fundraising and community actions. In September of 2015, MujerArtes celebrated its 20th anniversary with an extraordinary exhibition, "Barrio de Barro: Reclamando y Recordando el Westside de San Antonio," that paid tribute to the Westside neighborhoods that many of the women were originally from. Imelda, along with with the mujeres, conceptualized and organized an exhibit of 25 clay replicas of recognizable Westside structures such as the Guadalupe Church, the Cheers Bar, the former Guadalupanita Café and homes arranged along Westside streets with details of the yards, streets, and backyards typical of the Westside showing children playing, clothes hanging, families gathered for celebrations around barbecue pits, religious shrines and greenery surrounding each house. Imelda's love of art and immense talent was matched only by her love of the women of MujerArtes who she believed in and supported in many ways. She was an incredibly hard worker and could be found on top of scaffolding at the Esperanza working alongside staff members in preparation for an exhibit or program. This spring, before her diagnosis, Imelda could be seen working on the new earth block studio at El Rinconcito de Esperanza that will open September 2017. Imelda's spirit and creative energy will be felt in the new MujerArtes studio with her artwork forever imbedded in the earth block walls and her presence in the hearts of the women of MujerArtes. The buena gente of Esperanza extend our heartfelt sympathies to her family and the many friends she touched while among us. Imelda Arismendez, siempre presente!