The Revolution Will Not Be Televised | Film Screening + Discussion
Friday, February 22 @ 6:30 pm

-

9:00 pm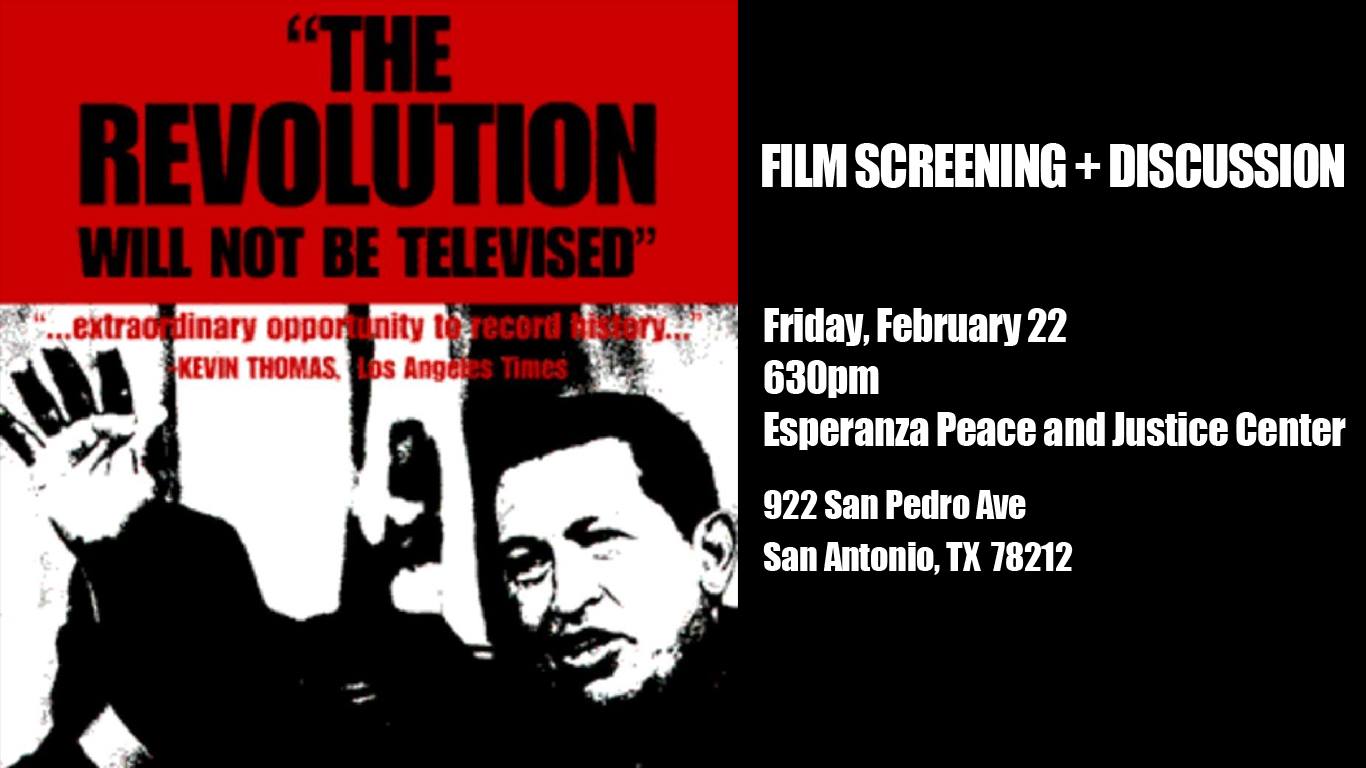 With the situation in Venezuela descending from crisis to chaos it is imperative to learn about the "whys" and how it all started, especially since our country is playing a major role in the crisis. The seriousness of the unfolding right-wing coup attempt backed by the U.S. in Venezuela has the potential to turn into catastrophic violence for the Venezuelan people and destabilize the whole region.
Join a coalition of San Antonio peace organizations and individuals for a free film screening of The Revolution Will Not Be Televised (2003).
The film screening will be followed by a panel discussion, and Q&A.
ABOUT THE FILM:
THE REVOLUTION WILL NOT BE TELEVISED (2003, 74min) depicts the dramatic events of April 2002, where Venezuelan president Hugo Chavez faced a coup attempt by an American-backed opposition party. After two days in the hands of the counter revolutionaries, Chavez was restored to the presidency via the popular mobilization of the Venezuelan people. The tumultuous event was captured on film by the two filmmakers who happened to be making a documentary about Chavez at the time.
ABOUT THE PANELISTS:
Excy Guardado is a teacher and activist from Honduras. Her family migrated to the U.S. when she was 5 years old. She creates art that brings awareness to the Honduran migrant struggle.
Jovanni Reyes is a 14-year Army veteran, local activist, organizer, member of About Face Veterans Against the War and Mijente. He has been closely observing Venezuelan developments since the 2002 coup of Hugo Chavez. He is of Dominican and Puerto Rican origin and sees what is happening to Venezuela today as part of a long and destructive legacy of the Monroe Doctrine. Jovanni holds a B.S. in Criminal Justice with a Minor in Military Science and a M.S in International Relations with a focus in Global Studies.
Rachell Tucker is currently a dual language kindergarten teacher member of About Face and, The Party for Socialism and Liberation. She is a Cuban American and grew up in Miami, Florida. While in the Army, Rachell was a Spanish language linguist for the Southern Command. Upon studying for her minor in Latin American history at UTSA she realized how U.S. imperialism has interfered with the self determination of other nations. She will speak on how her personal experiences are an example of the way U.S. empire utilizes the language of democracy and freedom to sell us their endless wars.
Moderated by Graciela Sanchez, Executive Director at Esperanza Peace & Justice Center
****
The film screen is the first of a series of actions as part of "SATX to Venezuela: A Week of Solidarity". Future event details TBA. The unfolding situation in Venezuela is extremely serious. It is vital that the people of the United States understand the way the right-wing coup attempt backed by the U.S. is a violation of Venezuela's self determination.