Recuerdos y Memorias: Telling our Family Stories Virtual Workshop
Saturday, April 10 @ 11:00 am

-

1:00 pm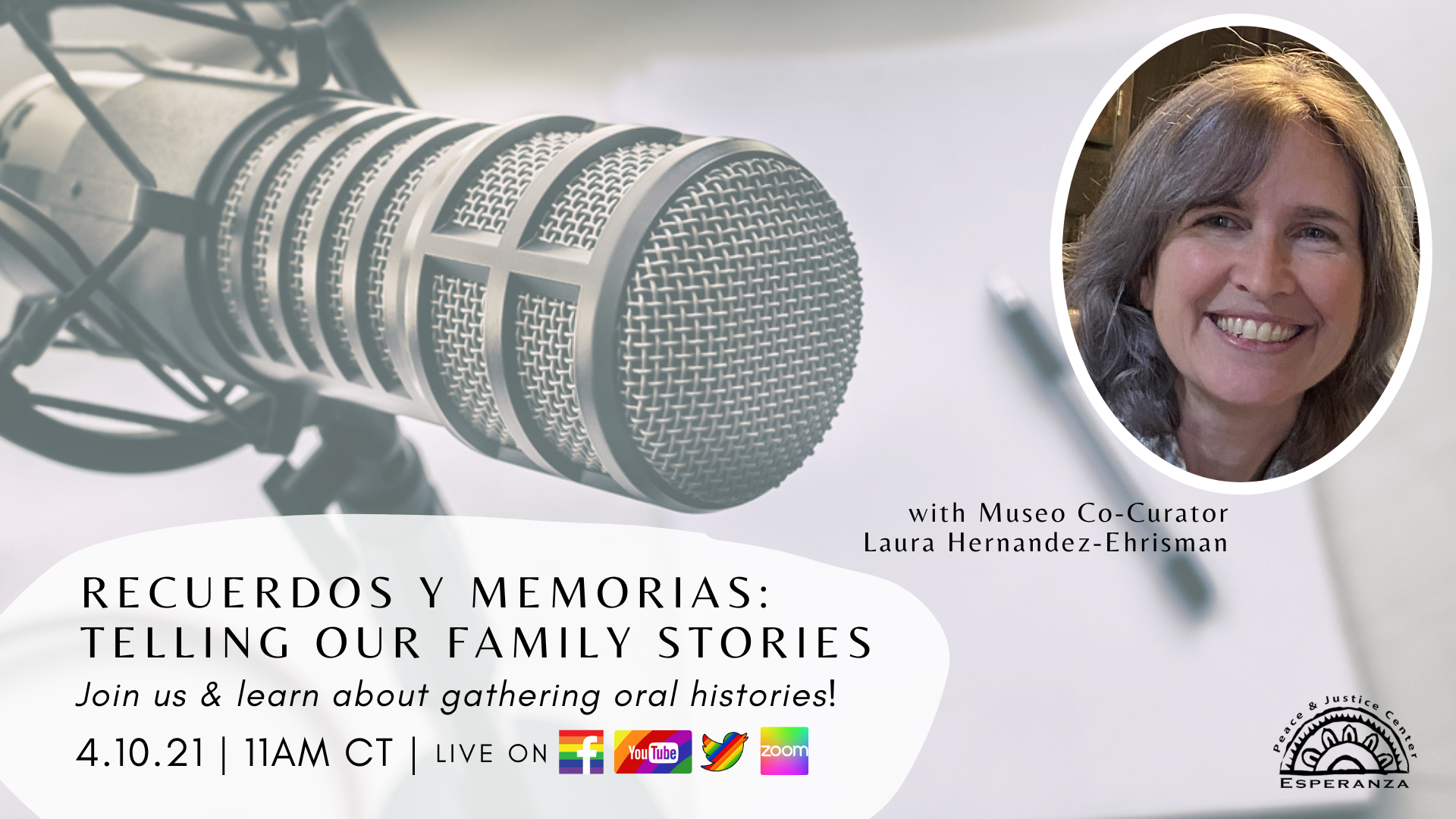 Join the Esperanza Peace and Justice Center, the Historic Westside Residents Association (HWRA), and the Westside Preservation Alliance (WPA) on Saturday, April 10th, 2021 at 11AM CT via Facebook, YouTube, & Twitter for a virtual workshop, Recuerdos y Memorias: Telling our Family Stories, with with Museo Co-Curator Laura Hernandez-Ehrisman.
Laura Hernández-Ehrisman, professional historian and Co-Curator with the Museo del Westside, will share advice on how to get started with an oral history project. She will discuss planning, interviewing tips, and easy, affordable ways to record interviews with your cell phone. Oral history is an important way to tell our own stories in our own voices. These interviews can capture how history is experienced, especially for folks whose lives aren't recorded in books and newspapers.
Do you have family stories that you want to preserve? Ideas for an oral history project? We want YOU to be a part of the conversation. We are also looking for community members who would like to interview our elders. Would you like to become a westside-focused "community archivist?" Attend our workshops and let us know if you want to know about our follow-up community archivist training! Join us & learn about gathering oral histories! Your questions are encouraged! We are cultivating the community and working to identify community archivists!
If you would like to participate interactively in this workshop via Zoom, please register for this workshop at
bit.ly/RecuerdosMemorias
Tune in via Facebook at www.facebook.com/esperanzacenter
Tune in via YouTube at www.youtube.com/esperanzacenter
Tune in via Twitter at www.twitter.com/esperanzacenter
For questions, call 210.228.0201 or email esperanza@esperanzacenter.org
This programming is made possible by our generous donors and Buena Gente. Donate via credit card @ www.esperanzacenter.org/donate or www.venmo.com/esperanzacenter. Gracias!