Paseo Por El Westside 2021: Nuestros Abuelos, Nuestros Maestros
Friday, May 28 @ 11:30 am

-

11:45 am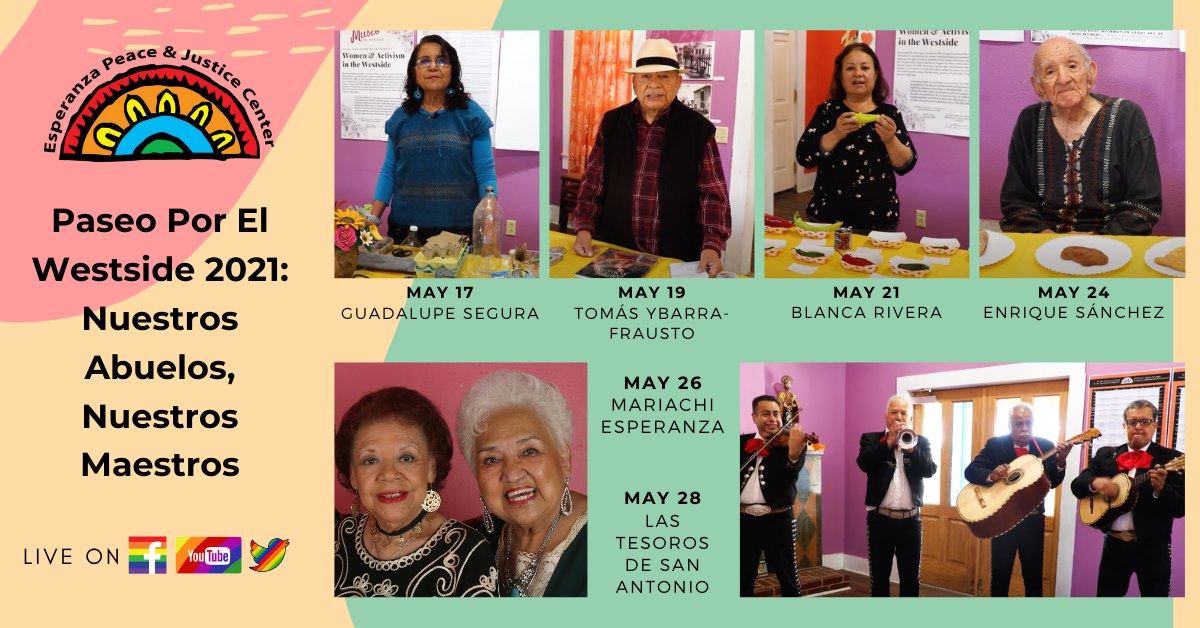 As part of our annual Paseo Por El Westside, join us virtually and celebrate the Westside of San Antonio's history, culture, and people with our Paseo Por El Westside 2021: Nuestros Abuelos, Nuestros Maestros.
In these short talleres, our teachers will share valuable information about important cultural practices and traditions!
Tune in on Facebook, YouTube, and Twitter for these live-streamed workshops!
Talleres Schedule:
🔹 May 17 at 1:00pm CT: Guadalupe Segura- Sustainability/ Recycling
🔹 May 19 at 11:30am CT: Tomás Ybarra-Frausto- Lotería
🔹 May 21 at 11:30am CT: Blanca Rivera- Chiles
🔹 May 24 at 11:30am CT: Enrique Sánchez- Pan Dulce
🔹 May 26 at 11:30am CT: Mariachi Esperanza
🔹 May 28 at 11:30am CT: Las Tesoros de San Antonio
Tune in via YouTube @ www.youtube.com/esperanzacenter
Tune in via Facebook @ www.facebook.com/esperanzacenter
Tune in via Twitter @ www.twitter.com/esperanzacenter
This programming is made possible by our generous donors and Buena Gente.
Donate via credit card @ www.esperanzacenter.org/donate or www.venmo.com/esperanzacenter. Gracias!