Noche Azul Concert: Curandera
Saturday, August 28

-

Sunday, August 29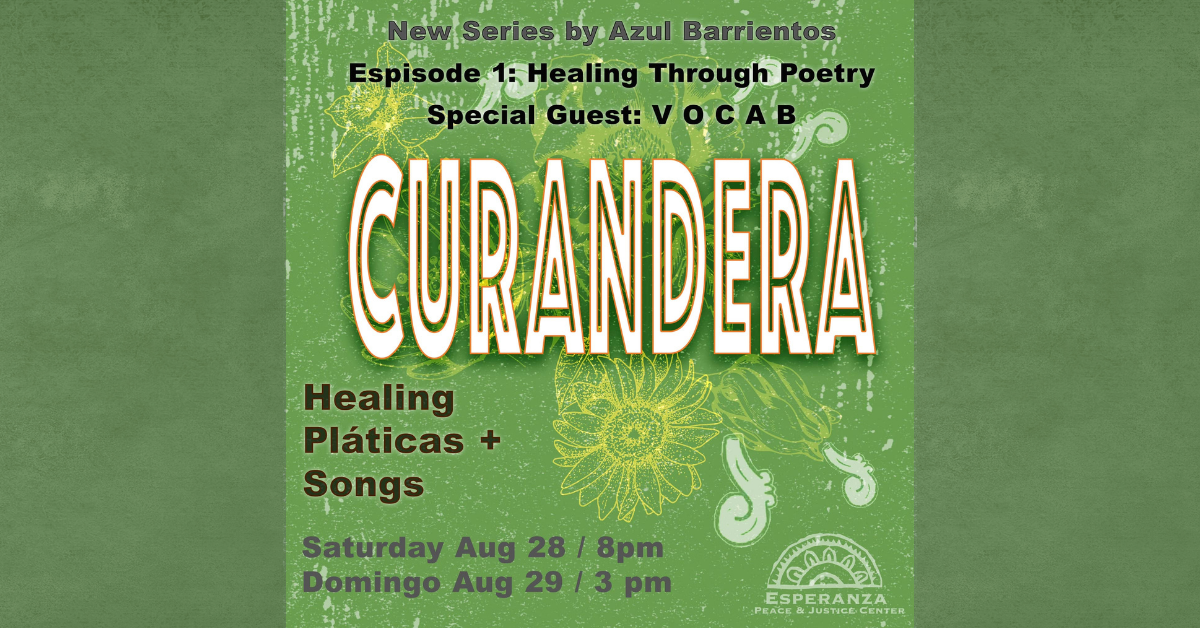 Join us for our monthly live-streamed Noche Azul concert with Azul Barrientos, available on Facebook and YouTube! 🎵 🎶
CURANDERA is a brand-new chapter in Azul's series' presentations. As we learn to navigate this new world, with fewer social interactions and new physical and emotional threats and struggles, the CURANDERA series focuses on talking with different people about self-healing practices. Each episode presents an original song. The CURANDERA series is part of Esperanza Peace & Justice Center programming.
In Episode 1- Azul's guest is San Antonio Poet Laureate Andrea "Vocab" Sanderson, and together, they talk about self-healing through words and poetry.
They will present a video of song "Lanzo Mi Voz" with Vocab's poem "Hurting and Healing: A Demonstration in Duality". Also we are honored to have Ceiba in the musical portion of our live songs.
🔸 Song "Lanzo Mi Voz" by Azul Barrientos
🔸 Poem "Hurting and Healing: A Demonstration in Duality" by Andrea Vocab Sanderson
🔸 Performed by Azul, Vocab & Ceiba.
🔸 Vocals, harmony vocals and shakers: Azul
🔸 Flutes: Janyn XC
🔸 Programming: Adan Herrera (Shiner)
🔸 Recorded by Azul
🔸 Mixed by Shiner
This version of the song was produced by Azul, Vocab, Ceiba & Shiner.
The video was put together by Vocab and it features Tamara Adira, Ceiba, Vocab and Azul and was recorded by Michael Gomez.
This event will take place on Saturday, August 28th @ 8pm CT (In English) & Sunday, August 29th @ 3pm CT (En Español).
View the concert via Facebook
www.facebook.com/esperanzacenter
www.facebook.com/azulbarrientosmusic
View the concert via YouTube @
www.youtube.com/esperanzacenter
www.youtube.com/azulmusicachannel
This programming is made possible by our generous donors and Buena Gente.
Donate via credit card @ www.esperanzacenter.org/donate or www.venmo.com/esperanzacenter. Gracias!