Noche Azul Concert: Agua y Poesía
Saturday, April 24 @ 8:00 pm

-

9:30 pm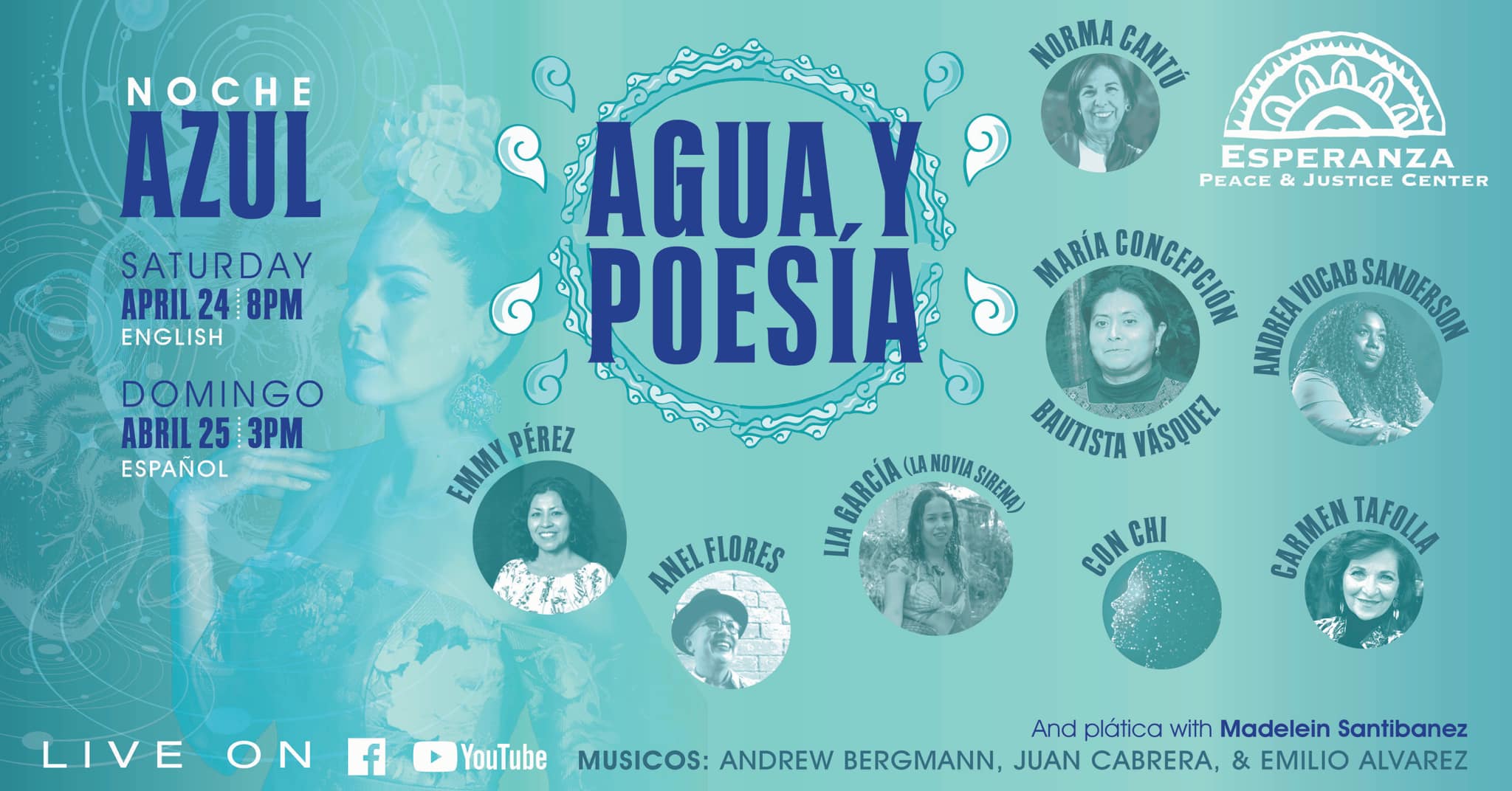 Join us for our monthly live-streamed Noche Azul concert with Azul Barrientos, available on Facebook and YouTube! Noche Azul: Agua y Poesía in honor of poetry month!
Agua y Poesía is an online event of poetry, music y un poquito más. Each poet will share some of their water-related work with us; the music will frame each vignette. Music and poetry will flow as sea waves of creative rhythms. 🌊 🎵 🎶
This event will take place on Saturday, April 24th @ 8pm CT (In English) & Sunday, April 25th @ 3pm CT (En Español).
Poetas:
– MARIA CONCEPCION BAUTISTA VASQUEZ
Maria Concepcion Bautista Vasquez is a Tsotsil writer and painter from the Tsotsil pueblo of Huixtan, Chiapas.
www.loc.gov/item/biographies/None/maria-concepcion-bautista-vasquez/
– ANDREA "VOCAB" SANDERSON
Host/Performance Poet/Singer/Rapper (not in that order) and the Poet Laureate of San Antonio, Texas 2020-2023.
www.andreavocabsanderson.com
– EMMY PEREZ
Emmy Pérez, Texas Poet Laureate 2020, has lived in the Texas borderlands for the past 20 years, the first six in El Paso where she has family roots before she moved to McAllen where she currently lives.
www.emmyperez.com/about.html
– LIA GARCIA "LA NOVIA SIRENA"
Lia Garcia was born in Mexico City, where she currently lives. She is a feminist apprentice, pedagogue, and performance artist. Her artistic projects have focused on weaving affective bridges between her own trans* experience and Mexico's social context. She has performed by occupying public space in multiple routes and wanderings.
es.wikipedia.org/wiki/Lía_García
– CARMEN TAFOLLA
The author of more than 30 books, her work appears internationally in high school and university textbooks, newspapers, journals and magazines, and elementary school readers.
www.carmentafolla.net
– CON CHI
Hermana sobreviviente en la lucha.
– NORMA CANTÚ
Norma Elia Cantú is a Chicana postmodernist writer and the Murchison Professor in the Humanities at Trinity University in San Antonio, Texas;
en.wikipedia.org/wiki/Norma_Elia_Cantú
– ANEL I. FLORES
"I am a lesbian, queer, woman story maker. My work manifests itself as drawings, chapters, and poems. My work is a continuation and evolution of the conversations started by the Chicana movement in art and literature, now infused by latinx, transfeminism, intersectionality, and queer politics and resistance."
www.anelflores.com
– MADELEINE SANTIBAÑEZ
Community Organizer/Educator/ Southwest Workers Union Board President/ SFA Fellow. We will close the event with a plática with Madeleine Santibañez!
www.swunion.org/environmental-justice
Musicians accompanying Azul will be Andrew Bergmann, Juan Cabrera, and Emilio Alvarez. 🎵 🎶
View the concert via Facebook
www.facebook.com/esperanzacenter
www.facebook.com/azulbarrientosmusic
View the concert via YouTube @
www.youtube.com/esperanzacenter
www.youtube.com/azulmusicachannel
This programming is made possible by our generous donors and Buena Gente.
Donate via credit card @ www.esperanzacenter.org/donate or www.venmo.com/esperanzacenter Gracias!