La Voz Mailout | Summer 2019 Double Issue
Thursday, June 20 @ 11:00 am

-

4:00 pm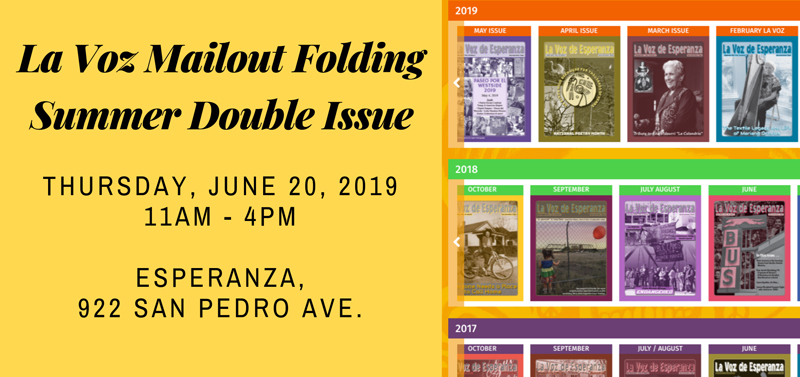 Buena Gente, we need your help folding our community newsjournal, La Voz de Esperanza! Can you join us for the La Voz Mailout on Thursday, June 20, 2019 from 11am – 4pm.
Been wanting to volunteer, need community service hours, want to meet great buena gente? Stop by Esperanza @ 922 San Pedro, and help us fold La Voz in preparation to mail.
Any time you can spare, whether its 30 minutes or a few hours, is greatly appreciated and needed.
We'll provide lunch and snacks!
—IN THIS ISSUE—
A National Emergency: To Protect & Preserve the Rio Grande by Melissa R. Cigarroa and Tricia Cortez • Traduire les Frontières/Translating Borders by Norma Cantú • (Our Lady of the Lake English/Creative Writing/Social Justice submissions: Prayer in the Shape of a Gun by s.t.shimi, The Noise of Highway 90 by Larissa Hernández, Rice by Emily Yglesias, Nuestro Westside by Samantha Ceballos • The Dungeons by Josefina Beatriz Longoria • Asylum by Arrie B. Porter) • WRITING ON THE WALL: Zapata County residents speak up about the wall; prospect of losing land evokes greater good takings for 1950s Falcon Dam construction by Maria Eugenia Guerra • Re-Rethinking Impeachment After the Mueller Report by Elliot Benjamin, Ph.D. • "The Status of Women in San Antonio": An Overview Of The Report by Rogelio Sáenz and Lily Casura • Low Income Tenants Organizing For Justice by Pancho Valdez & James Hamilton