Genealogy Workshop: Finding Your Mexican Ancestors
Saturday, March 10 @ 1:00 pm

-

3:30 pm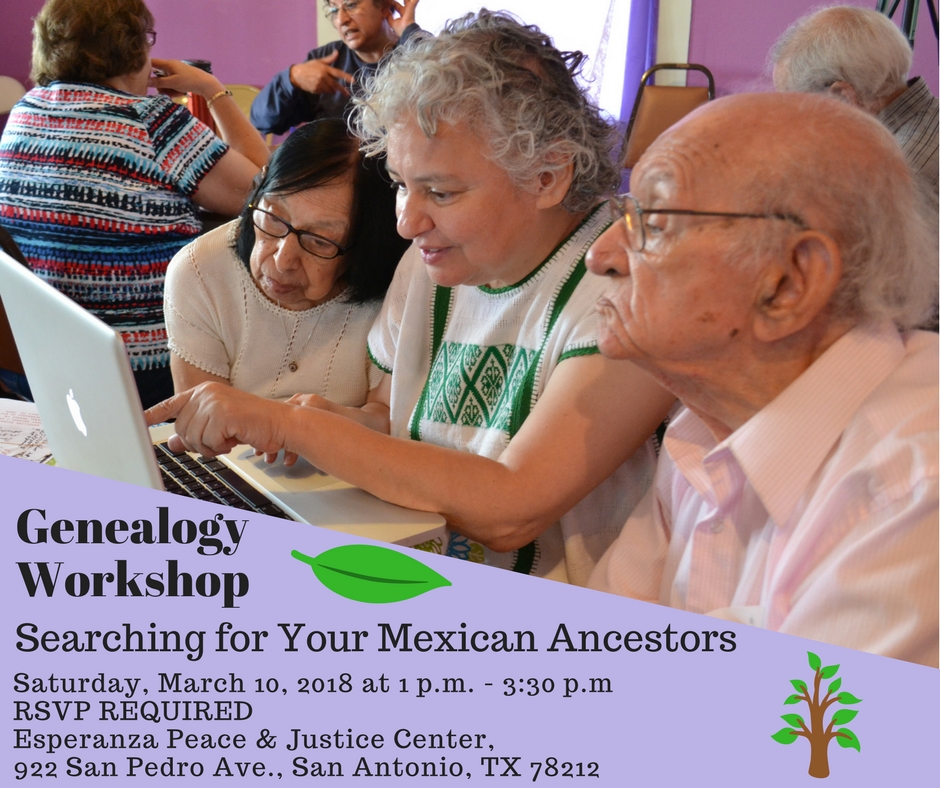 SPACE IS LIMITED, PLEASE RSVP BY CALLING US AT 210.228.0201. ESPACIO ES LIMITADO. POR FAVOR LLAME AL 210.228.0201 PARA RESERVAR Y CONFIRMAR ASISTENCIA.
Join us for a genealogy workshop on searching for your Mexican ancestors with local archivist Donna Guerra! Workshop is free, but donations are appreciated!
In this workshop we will:
• share about why we want to find our ancestors, and what we hope to gain from the workshop
• document the full names of our ancestors for three generations back (parents, grandparents, great grandparents, and where they were born, where they lived, and where they died)
• practice searching familysearch.org for ancestors
• practice reading Mexican Spanish records, and translating them
talk about specific terms and abbreviations used in Mexican church records
• share tips on how to work with challenges that we face while doing genealogy research
NOTE: If you attended the workshop on February 10th, this will be the same intro class to finding your Mexican ancestors. For people who have already taken this intro class, we will be having a work day to research as a group later on.