Fuentes/Sánchez – Sidney Lanier High School Scholarship Dance
Saturday, April 13 @ 8:00 pm

-

11:59 pm

|

$7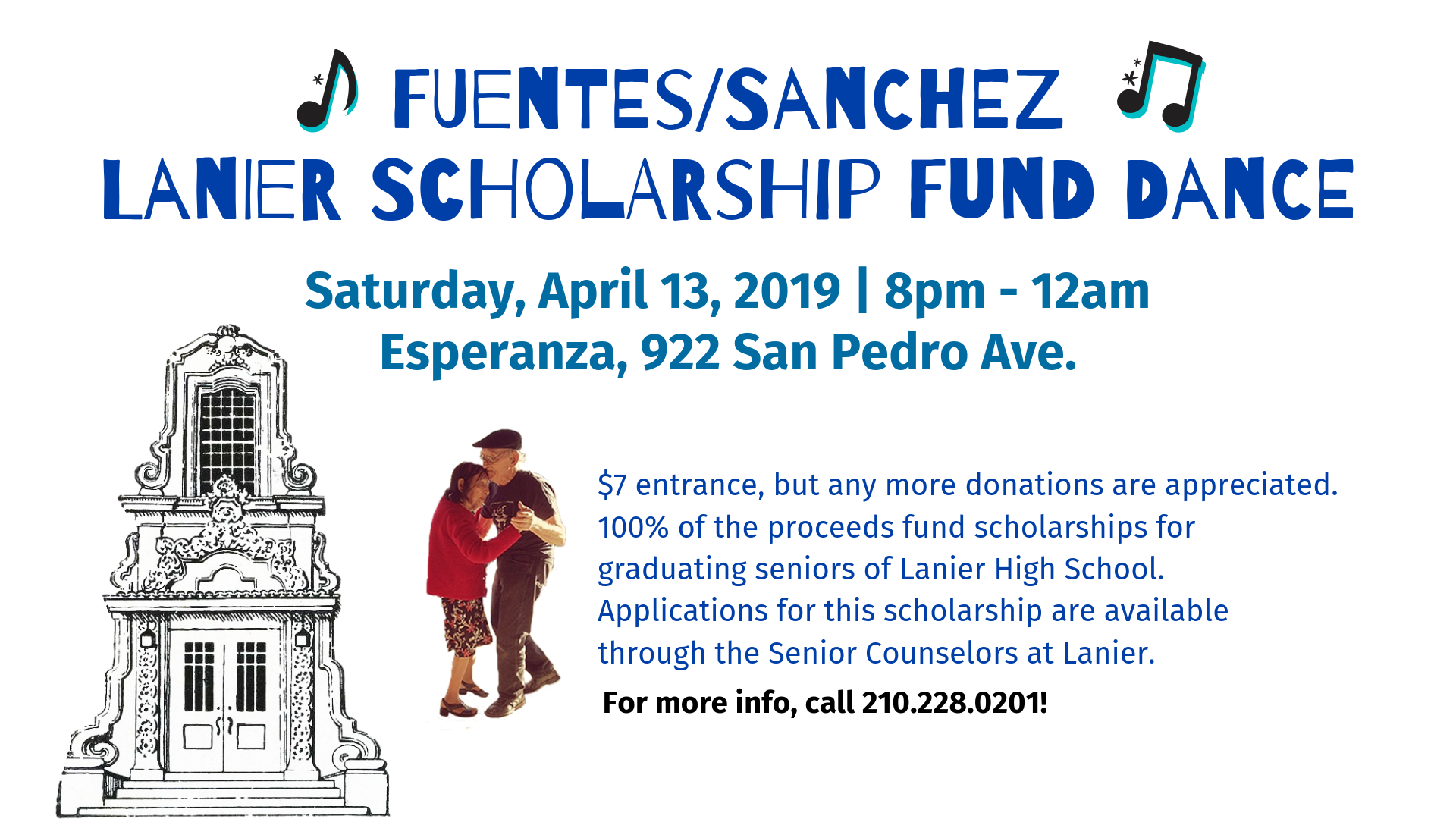 *Tickets are $7.00 each! Any extra donations are appreciated. 100% of the funds will go to scholarships for Lanier High School students who qualify for the Fuentes/Sanchez Scholarship Fund.*
The Fuentes/Sánchez – Sidney Lanier High School Scholarship Dance is set for Saturday, April 13, 2019 at the Esperanza Peace & Justice Center!
All proceeds will be used to provide scholarships for Lanier High School (San Antonio) students who will be attending college during Fall 2019. Applications are available through the senior counselors for the Fuentes-Sanchez scholarship for current Lanier Seniors attending college during Fall 2019.
The scholarship is named after Amelia Fuentes and Isabel & Enrique Sánchez, who have raised scholarship funds to help and encourage students in the near Westside of San Antonio to attend college. All three of these individuals attended and graduated from Lanier High School and have committed their lives to being education advocates for inner city students.
Mr. and Mrs. Sanchez are committed to the community in which Mrs. Sanchez has lived all her life and Mr. Sanchez has lived for the last 70+ years. Their commitment to the education of the students in San Antonio's near Westside may be witnessed as they visit local schools and help in after school programs.
The duo's presence may be seen at a variety of events, from dancing to salsa music anywhere they can find salsa music playing, to attending and participating in marches, to speaking out on behalf of their community at City Council meetings.
This annual scholarship dance will include music by DJ "El General." The attire is dressy casual to semi formal. Food, antojitos, and refreshments will be sold. Monetary donations for the scholarship awards are appreciated. Raffle prizes, etc. will gladly be accepted. Tickets are $7.00 each although donations of any amount beyond $7.00 are appreciated.
100% of the funds will go to scholarships for Lanier High School students who qualify for the Fuentes/Sanchez Scholarship Fund.