Esperanza's Día de los Muertos Celebration
Monday, November 1 @ 10:00 am

-

Monday, November 8 @ 8:00 pm
Event Navigation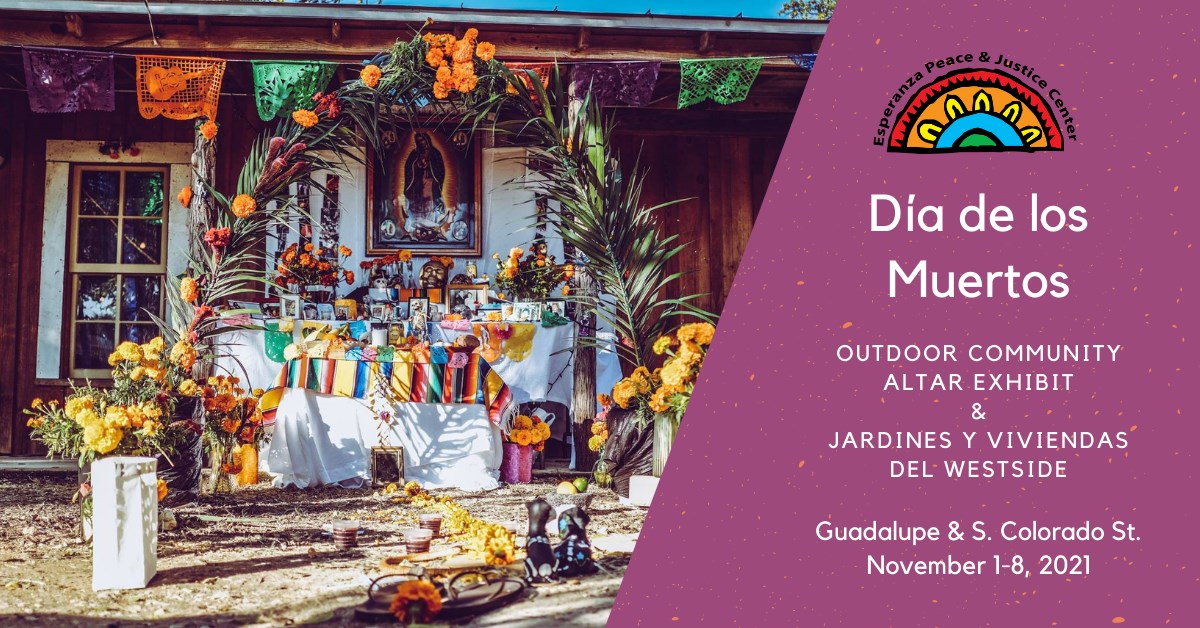 Join la Buena Gente de Esperanza for our annual celebration at the Rinconcito de Esperanza from November 1st through November 8th!
Again this year, we are building a large community altar at the corner of Guadalupe & S. Colorado streets to honor community members we hold dear in our memories, as well as the many victims of COVID-19 – numbering over 4,900 in Bexar County. Additionally, a dozen community altars will grace our Rinconcito de Esperanza at 816 S. Colorado, right across the street. All activities will take place outdoors.
On November 1st and 2nd, come out and enjoy Mariachi Esperanza playing at 6pm!
Community members are invited to walk through and view our Viviendas y Jardines del Westside (Homes & Gardens of the Westside), Cempasúchil (Marigold) Gardens, that have been planted at the Rinconcito de Esperanza and throughout the Westside neighborhoods.
Visitors can also tour the historic fotobanners featured in our Fotohistorias del Westside exhibit along Guadalupe St and visit other Westside neighborhood ofrendas at the Rinconcito de Esperanza.
Guests can also stop by the MujerArtes' beautiful compressed earth block studio, also located at the Rinconcito de Esperanza, to purchase and enjoy beautifully, handcrafted art pieces in celebration of Día de los Muertos!
The Esperanza Community is continuing our celebration of Día de Los Muertos with our virtual programming on Esperanza's Facebook & YouTube Channels from November 1st-8th at 7pm CT. Enjoy Día de los Muertos cultural programming each evening filled with música, poetry and calavera readings, and short tutorials on how to build an altar!
On November 2nd at 7pm CT, tune in for Día de los Displaced- A Resistance Panel to discuss the different housing problems like displacement. People are being displaced by property taxes, evictions, losing their jobs, and many different scenarios. During this panel discussion, panelists and community will talk about the need to fight back for the protection and respect of our community. There will be a live Q&A following the panel around 8pm CT, available on Facebook & YouTube.
While our 2021 celebration has changed, our observance of Día de Muertos continues as a testament to the healing power of our cultura! We invite you to walk the outdoor path of our ofrendas, observing COVID safety measures–or you can drive by to appreciate the exhibit. Join us in conserving the traditions of our Mexican heritage and the Westside!
*Face coverings and social distancing is required.
Contribute images of your loved ones to the community altar!
To be included, please email your best quality fotos – along with memorias and dates of birth and death– to ofrendas@esperanzacenter.org by October 29th. Questions? Leave a message at 210.228.0201.
Photo: Lupito's Photography