Coming Out Coming Home Plática w/ Adelina Anthony
Friday, October 1 @ 7:00 pm

-

8:00 pm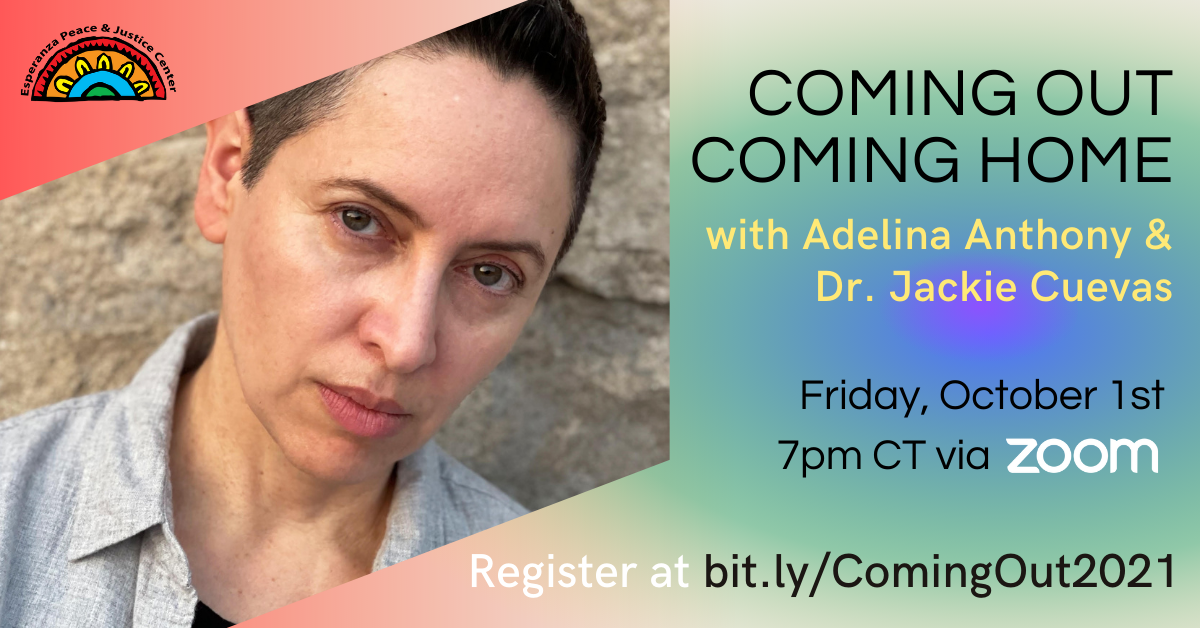 Save the Date! October 1st! 7pm CDT! Make sure to register for "Coming Out Coming Home," a virtual discussion with Adelina Anthony and moderated by Dr. Jackie Cuevas. Adelina, a Two Spirit Xicana lesbian artist, will speak to themes around "home" and how her upbringing in San Antonio shaped her as an artist. At the end of the discussion, there will be a short Q&A.
This virtual event will take place on Zoom. Please register for the event at bit.ly/ComingOut2021.
A week before the discussion, registrants will receive a free link to view one of Adelina's films, Amigas with Benefits! 💕✨
Check out more films by Adelina Anthony!
Ode To Pablo- www.youtube.com/watch?v=X3h46huyr3U
Guarding Santos- www.vimeo.com/ondemand/227819
La Serenata- www.hbo.com/latinx/la-serenata-the-serenade
Bios:
Adelina Anthony, originally from the Payaya Territories (San Antonio, TX), is a critically acclaimed Two Spirit, Xicana, Lesbian artist whose entire artistic trajectory of twenty-five years has centered characters/stories from Xicana Indigenous Lesbians, LGBTQ+ Latinx, radical QTPOC, feminists WOC and other aggrieved communities. Prior to embracing filmmaking, Adelina was known as a prolific theater artist and solo performer (she was twice nominated for the Herb Alpert Award in Theatre).
She shifted the majority of her artistic energy toward independent filmmaking in 2012. That year, along with Marisa Becerra, she co-founded AdeRisa Productions. The independent company has been a vehicle for Adelina and other collaborators to grow artistically as filmmakers. Her first short film as writer-director, Forgiving Heart, premiered at the Outfest Fusion Gala in 2013. Since that year, her award-winning short screenplays include You're Dead to Me (2013), Get the Life (2016), Amigas with Benefits (2017), Ode to Pablo (2019) and The Daily War (2021). Her first feature film, Bruising for Besos (2016), premiered at Frameline, and found audiences internationally and on the university circuit. She is a fellow of the Sundance Intensive Writers program, Film Independent's Project Involve, Arts Matter Foundation and a three-time Imagen Award winner.
She continues to mentor emerging artists, create her own original works, and commits herself to ongoing writing collaborations with fellow artists in film and other genres. Currently, these are some of her writer collaborations: 1) Co-writing a fictional memoir with indigenous elder, Nancy Chargualaf Martin; 2) Co-writing a new film script with Marisa Becerra; and 3) Co-writing with Ernesto Javier Martínez the feature film version of La Serenata. (Their multiple award-winning short film version can be found streaming on all HBO platforms until April 2022.)
Regardless of medium or genre, the artistic works are always presented as "offerings." Adelina, ever grateful for the sacrifices of her ancestors, especially her mother, holds this indigenous tenet close to her spirit: STORY IS MEDICINE.
Learn more about Adelina Anthony at www.adelinaanthony.com.
For questions, call 210.228.0201 or email esperanza@esperanzacenter.org.
This programming is made possible by our generous donors, Buena Gente and the Mellon Foundation. Donate via credit card @ www.esperanzacenter.org/donate or www.venmo.com/esperanzacenter. Gracias!