Bad Mexicans: Race, Empire and Revolution in the Borderlands Plática @ Esperanza
Sunday, May 22 @ 12:30 pm
|
Free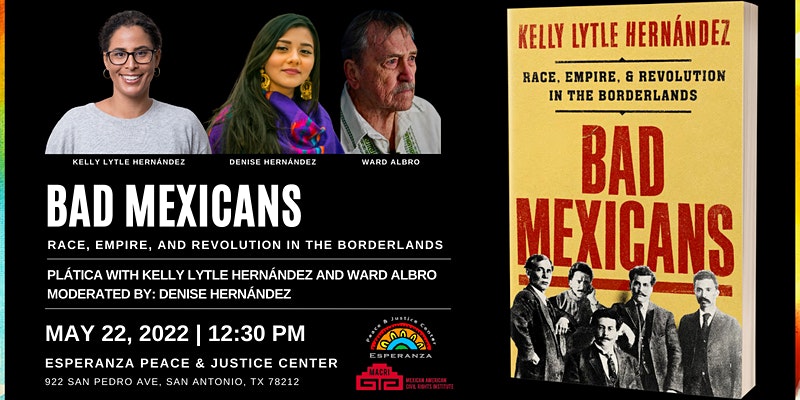 Join us on Sunday, May 22nd, 2022, at 12:30 PM for a plática around the book Bad Mexicans: Race, Empire and Revolution in the Borderlands.
The Plática will feature author Kelly Lytle Hernández, Ward Albro, and moderator Denise Hernández and will be preceded by a reception.
"Rebel historian" Kelly Lytle Hernández reframes our understanding of U.S. history in this groundbreaking narrative of revolution in the borderlands.
"Bad Mexicans" tells the dramatic story of the "magonistas," the migrant rebels who sparked the 1910 Mexican Revolution from the United States. Led by a brilliant but ill-tempered radical named Ricardo Flores Magón, the magonistas were a motley band of journalists, miners, migrant workers, and more, who organized thousands of Mexican workers and American dissidents to their cause.
Determined to oust Mexico's dictator, Porfirio Díaz, who encouraged the plunder of Mexico by U.S. imperialists, the rebels had to outrun and outsmart the swarm of U.S. authorities vested in protecting the Díaz regime.
Taking readers to the frontlines of the magonista uprising and the counterinsurgency campaign that failed to stop them, Kelly Lytle Hernández puts the magonista revolt at the heart of U.S. history. Long ignored by textbooks, the magonistas threatened to undo the rise of Anglo-American power on both sides of the border, and inspired a revolution that gave birth to the Mexican-American population, making the magonistas' story integral to modern American life.