7th annual Paseo por el Westside
Saturday, May 7 @ 9:00 am

-

3:00 pm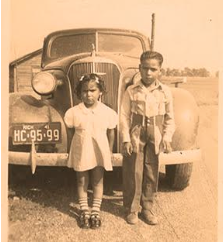 Celebrate the Westside of San Antonio's history, culture and people with the Paseo por el Westside on May 7 from 9 AM- 3 PM at the Rinconcito de Esperanza  (816 S. Colorado).
Paseo por el Westside is a National Historic Preservation Month event and is co-sponsored by the Westside Preservation Alliance, the City of San Antonio Office of Historic Preservation, Councilwoman Shirley Gonzales, the San Antonio Public Library and Inner City Development.
Every year we offer tours through the Westside as well as our street museum component of En Aquellos Tiempos fotobanners, but this year we will also have van tours. A separate tour will walk to San Fernando Cemetery No. 1. All tours will meet in front of Casa de Cuentos at 816 S. Colorado.
There will be workshops and platicas about using hot peppers, the history of pan dulce, and making paper roses. Most of the workshops, platicas and stations are run by Buena Gente volunteers and community members.
Grupo Tayer from Matamoros, Mexico will be leading a 10 AM workshop on traditional Mexican Children's songs. Tayer is a recognized representative and promoter of Mexican musical memory. They will also perform at 1 PM and 2:15 PM.
We will also have two genealogy workshops "Tracing Family Roots using Library Resources" presented by Sylvia Reyna and "Finding your Mexican Ancestors" presented by Donna Guerra. The Esperanza will also be unveiling the newly digitized video collection detailing the almost 30 year history of the organization and its work.
The event is free and open to the public as well as family friendly. For a full list of activities please see the schedule.