41st Annual CineFestival en San Antonio 2019 | Frontera in Focus
Friday, July 12 @ 10:00 am

-

11:00 pm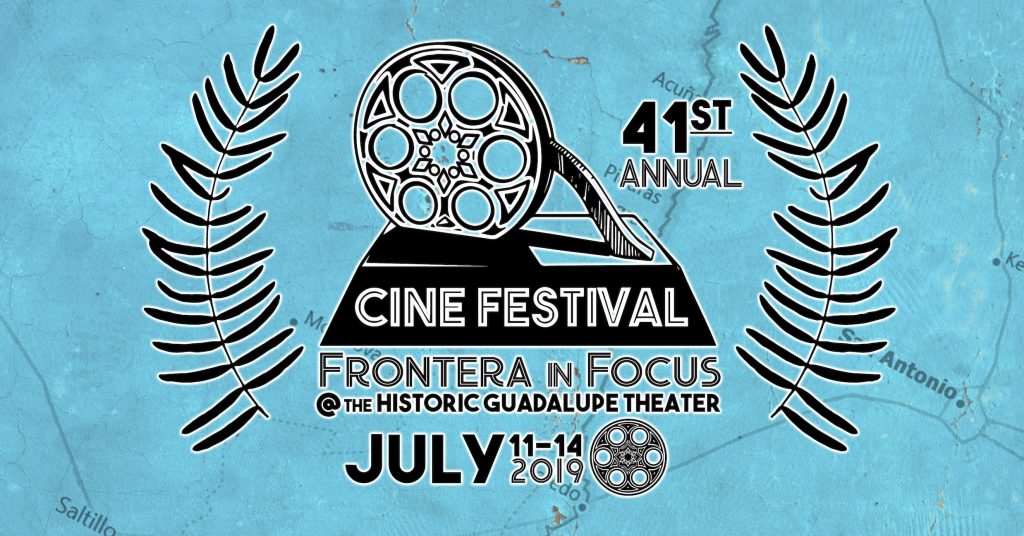 Friday, July 12, 2019 | 10am-12pm
Senior Cinema: Las Tesoros de San Antonio/A Westside Story– Directed by Jorge Sandoval
Their individual careers soared in the 1940s thru the 1970s. All of these women once hailed from San Antonio's Westside barrio. Time had almost forgotten them. And now that these "tesoros" or treasures have been rediscovered, these magnificent women are telling amazing stories. Las Tesoros de San Antonio – "A Westside Story". Examines the personal toll and legacy of four South Texas singers of yesteryear. Rita "La Calandria" Vidaurri, Blanquita Rodriguez "Blanca Rosa", Beatriz "La Paloma del Norte" Llamas, and Anita Janet Cortez "La Perla Tapatia" Through their stories and music the audience learns how these women began their careers in a male dominate industry to become successful singer/performers nationally and internationally. As well as their personal tragedies that lead to retirement and then to their present day musical resurgence.
Sponsored by San Antonio Film Commission, Esperanza Peace & Justice Center and Cine Studio San Antonio
Ticket options include:
Festival Pass – $50 (Admission to All Films)
Evening Tickets – $10
Daytime Tickets – $8
After Party Admission – FREE For All Festival Goers
---
Friday, July 12, 2019 | 4pm-6pm
Cine en el Barrio: A Strike and an Uprising (in Texas) – Directed by Anne Lewis
In 1938, Emma Tenayuca led ten thousand San Antonio pecan shellers in a massive walk out. While the pecan shellers' strike is recognized by many as the birth of the Chicano movement, it is shrouded in myth and denial about its iconic communist leader. In 1987, workers organized a march of 3,000 through the streets of Nacogdoches — a largely unknown epiphany for black women in Texas. A Strike and an Uprising (in Texas) explores both events, using the methods of oral history including myth and humor, and relates these stories strongly to contemporary ideas and events including the removal of the Jefferson Davis statue at UT Austin. The resulting experimental documentary recovers stories of working people in Texas and demonstrates the power of labor and liberation.
Sponsored by San Antonio Film Commission & Esperanza Peace & Justice Center
---
Friday, July 12, 2019 | 7pm-9pm
3rd Annual Femme Frontera Filmmaker Showcase
This film showcase centers on the theme of empowerment through the female perspective. Femme Frontera returns to CineFestival with stories of hope, perseverance, and resistance!
Birth on the Border
Ellie Lobovits, 2018, Mexico/USA, 28 min
Seeking a safer future for their children, two women from Ciudad Juárez, risk harassment at the hands of Border Patrol to cross the US-Mexico border legally to give birth in El Paso, Texas.
Before I Forget
Razan Hassan, 2018, Netherlands/Syria, 11min
An autobiographical exploration of how memory and identity are fractured by forced displacement. Following her journey from Syria to the Netherlands, Razan Hassan begins to question the veracity of her recollections of home, family, and childhood.
7 Planets
Milda Baginskaite, United Kingdom, 2018, 7 min
A tale of one girl's dream to escape Planet Earth.
Mud (HASHTŁ'ISHNII)
Shaandiin Tome, 2017, USA, 10 min
A women's craving for a connection with her son, which is hindered by alcoholism.
Salt in Wounds
Alison Adriano, 2018, Australia, 10 min
When a reckless Filipino Aussie teenager realizes her boyfriend watches only caucasian porn, she must rediscover her sense of belonging in White Australia.
En la Frontera del Arte (On the Margins of Art)
Miranda Harris-Martinez and Mike Curran, 2018, Mexico/USA, 15 min
En la Frontera del Arte centers the stories of El Paso and Ciudad Juarez-based contemporary artists challenging U.S. border imperialism through their arts practices.
Sponsored by San Antonio Film Commission & Esperanza Peace & Justice Center
---
The Garden Left Behind – Directed by Flavio Alves
Friday, July 12, 2019 | 9pm-11pm
The Garden Left Behind – Directed by Flavio Alves
2019, Brazil/USA, 88 min
The Garden Left Behind traces the relationship between Tina, a young Trans woman, and Eliana, her grandmother, as they navigate Tina's transition and struggle to build a life for themselves as undocumented immigrants in New York City. Out at the Movies returns to the Guadalupe Theater with this timely film, which premiered at South By Southwest where it won the Audience Award in the Visions section.
Sponsored by San Antonio Film Commission & Esperanza Peace & Justice Center