30th Annual International Peace Market/Mercado de Paz
Friday, November 29

-

Sunday, December 1
Event Navigation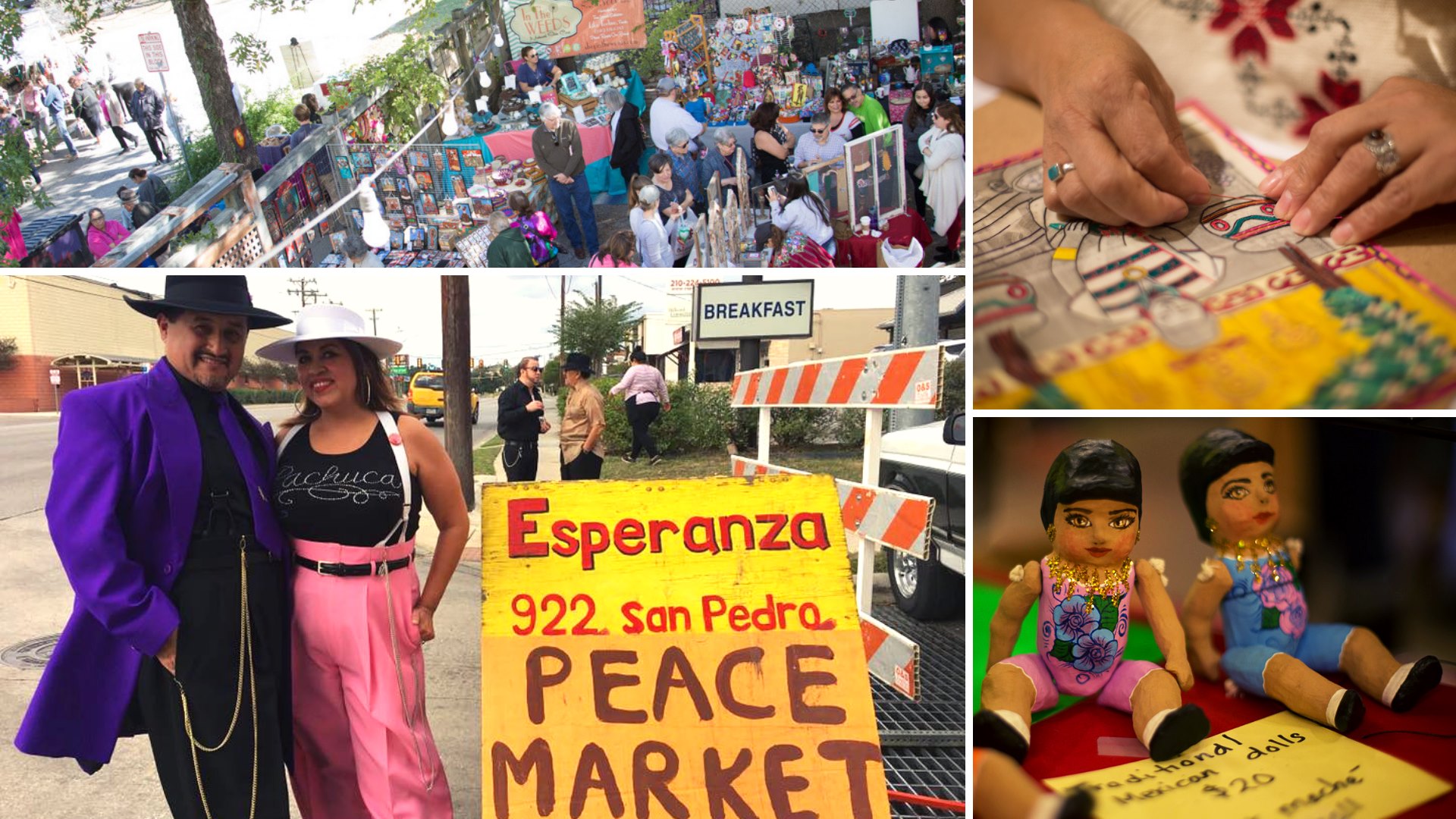 The Esperanza Peace and Justice Center celebrates 30 years of combining the arts with economic sustainability, international exchange, and social consciousness. Peace Market provides a family-friendly safe environment that honors the importance of moments and spaces where people gather outdoors and indoors together as community. This year the market will be held on Friday, November 29 & Saturday, November 30 from 10 a.m. to 6 p.m., and Sunday, December 1, from 12 p.m. to 6 p.m.
As one of the oldest annual open-air international markets, the Mercado de Paz offers a community-centered alternative shopping destination during the busiest corporate shopping days of the year. International and local artists/artisans will offer shoppers a variety of artful, beautifully handmade items, including hand woven rugs, hand crafted pottery, hand crafted textiles, hand-embroidered clothing, paintings, sculptures, vintage goods, soaps, and much more.
The market will also offer live music from local performers and affordable and delicious food options from chicken mole to vegan menudo. 🎉🎶🍗🌮🍰☕
For the past 30 years, visitors and local patrons have gathered at the Esperanza Center free of charge, filling the two-story building, the back patio and spilling out into Evergreen – the adjacent street. The Esperanza Peace and Justice Center is located 1.5 miles north of the downtown library on San Pedro and Evergreen St. across from the VIA offices.
For more info, you can call us at (210) 228-0201.
Remember, when you purchase something at Peace Market, you should always receive a pink receipt. You can show this receipt at the raffle table to get a free raffle ticket for a chance to win one of the products by the Peace Market vendors!
===================
El Centro Esperanza de Paz y Justicia celebra 30 años combinando las artes con la sostenibilidad económica, el intercambio internacional y la conciencia social. El Mercado de Paz ofrece un ambiente seguro y familiar que rinde homenaje a la importancia de los momentos y espacios donde la gente se reúne al aire libre como comunidad. Este año, el mercado se llevará a cabo el viernes 29 de noviembre y el sábado 30 de noviembre de 10 a.m. a 6 p.m., y el domingo 1 de diciembre a partir de las 12 p.m. a 6 p.m.
Como uno de los mercados más antiguos internacionales anuales, el Mercado de Paz ofrece un destino de compras alternativas centrado en la comunidad durante los días de compras corporativas más concurridas del año. Artistas/artesanos locales e internacionales ofrecerán a loa comunidad una variedad de creaciónes hechas a mano, que incluyen alfombras tejidas a mano, cerámica hecha a mano, textiles hechos a mano, ropa bordada a mano, pinturas, esculturas, productos vintage, jabones, y mucho más!
El mercado también ofrecerá música en vivo de artistas locales y opciones de comida deliciosas, desde mole de pollo hasta menudo vegano.
Durante los últimos 30 años, los visitantes y la comunidad local se han reunido en el Centro Esperanza, llenando el edificio de dos pisos, el patio trasero y derramándose en Evergreen, la calle adyacente. El Centro de Esperanza de Paz y Justicia se encuentra a 1.5 millas al norte de la biblioteca del centro en la calles San Pedro y Evergreen frente de las oficinas de VIA tránsito metropolitano.
Para obtener más información, puede llamarnos al (210) 228-0201 o enviarnos un correo electrónico a pr@esperanzacenter.org.
Si desea ser voluntario o donar comida para este evento, llámenos al 210.228.0201.
---
LOCAL VENDORS
Helen's Hidden Treasures • Aztlán Libre Press • Rosember Balboa • handmade by lissie • Ima Sumac Peru • Libélula Leather • Blue Sun Shop • Zaachila LLC • Micro Terra • Last Splash Vintage • Conti Leather & Artisan bags • Arcie's Creations • One of One • Con Cariño • Celeste De Luna • Soilnature • Inka's Bamboo • Wildcraft Print Shop • Pearl Sense • Art of Palm • La Crafty Vida • Xelena González • Katrina Gorman • Bird in Black • Flaming Artistry • Green Clean • Mildred E. Hilbrich's Jewelry • Jonathan Hinojosa • Ink & Anvil Crafts • Handmade by Miriam • Gina Lee's Creations (Peruvian Goods) • Athena Silversmith • Artesania Xanat • Violet Serpentine • Alejandra H. Martinez • El Puño y la Mano • MujerArtes Clay Cooperative • Tim Palomera • Michele Parlee • José Alfredo Pérez Benitez • BrieBlue.com • Emmanuel SA Artist • Echale Books • Rosycrafts • Bryan's Photography • Patricia Ruiz • Annette Sánchez • Pearl A. Sánchez • Jorge L. Sandoval • Love Art Style • Faith & Fashion • Guadalupe Segura • Atsuko Taniguchi Metalsmith • In the Weeds Natural Skin Care • Dora Amelia Úrdiales de González • Ana Uviedo • Liliana Wilson Art • Tejas Folk Arts • Angel Hands
INTERNATIONAL ARTISANS
Irene & Juan Aguilar (clay art from Oaxaca) • Artesanias El Quetzál (Guatemalan textiles & more) • Andrey Gómez Salgado (copper goods from Michoacan) • Casa de las Canastas (baskets from Toluca) • Alfonso Castillo Hernández (clay art and trees of life from Puebla) • CRÉELA (Crocheted plastic bags from the Dominican Republic) • Enrique Salvador De la Pila (seed bead jewelry from MX) • Arte Plumario Kozamalotl (feather art from Morelos) • Yolopopotli Arte (Popotillo art from MX) • Jiménez Family Alebrijes (wooden folk art sculptures from Oaxaca) • María Isabel Hernández Mendoza (Popotillo art from Guadalajara) • Christina Petronila Antonio Herrera (wooden folk art sculptures from Oaxaca) • La Red Niu Matat Napawika (cooperative with textiles, clothing, pillows, bags and more from over 10 groups in MX) • Fernando Lorenzo (Familia Lorenzo paintings in Guerrero) • Marisol Guadalupe Martínez Magaña (embroidered shoes from Yucatan) • Jorge Morales (wooded sacred hearts from Toluca) • Javier Ramírez Hernández (trees of life from MX) • Camelia Ramos (rebozos from Malinalco) • Dora Magdalena Rodríguez García (filigree jewelry from Oaxaca) • Kuanaua (rebozos from Tenancingo) • Berta & Maria Ester Servin Barriga • Enedina Serefina Vásquez Cruz (red clay art and jewelry from Oaxaca) • Guadalupe Vásquez (woven rugs from Oaxaca)
—
—
—