Decolonize Your Diet Book Plática
June 23, 2017 @ 7:00 pm

-

9:00 pm

|

o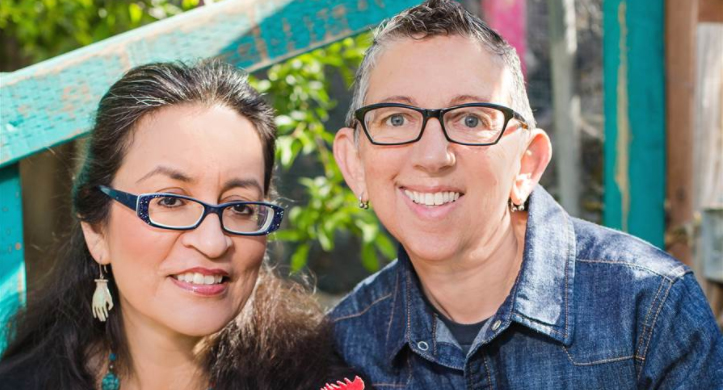 Join us for "Decolonize Your Diet" plática and book signing with Luz Calvo and Catrióna Rueda Esquibel on Friday June 23 at 7 PM at the Esperanza Peace and Justice Center at 922 San Pedro Ave.
More than just a cookbook, Decolonize Your Diet redefines what is meant by "traditional" Mexican food by going back into history to reclaim ancestral foods as a source of protection from modern diseases of development. Authors Luz Calvo and Catriona Rueda Esquibel are life partners; when Luz was diagnosed with breast cancer in 2006, they both radically changed their diets and began seeking out recipes featuring healthy, vegetarian Mexican foods. They promote a diet that is rich in plants indigenous to the Americas (corn, beans, squash, greens, herbs, and seeds). Also check out their blog and Facebook page!
Luz and Catriona will be spending the weekend with us and you will have 3 opportunities to meet them. Check back on our Facebook for the other 2 events! This event is part of a series the Esperanza is doing on reclaiming ancestral foods.
Special thanks to the amigxs who have met to plan the series: Anayanse Garza, Beto DeLeón, Laura Rios Ramirez, Lilliana Saldaña, Lillian Stevens, Lisa Cervantes, Isaac Garcia y Nadia Gaona.
About the Authors
Luz Calvo received their PhD in the History of Consciousness Program at UC Santa Cruz in 2001. Luz is a professor of Ethnic Studies at Cal State East Bay, where they teach a course entitled, "Decolonize Your Diet: Food Justice in Communities of Color." Luz traces their food genealogy to her paternal grandparents, who ran a Mexican restaurant in San Fernando, California, from the 1940s through the 1970s. The Calvo business began when the grandparents began selling tacos to the cannery workers, with their grandfather purchasing fresh, seasonal ingredients from the LA Central market, and their grandmother preparing and packaging the tacos.
Catrióna Rueda Esquibel received her PhD in the History of Consciousness Program at UC Santa Cruz (1999). She is an associate professor in Race and Resistance Studies at San Francisco State University. She is the author of With her Machete in her Hand (U of Texas Press, 2006) Her father's family has lived in northern New Mexico for more than twelve generations. On her mother's side, her great-great-grandmother, great-grandmother, and grandmother all migrated from Sonora to Los Angeles between 1913 and 1919. Each of these women made a living cooking for Mexican migrant workers and Chicanos/as in Los Angeles. Catriona is interested in diet and diabetes because her father and many of his siblings were diagnosed with type 2 diabetes.